China-Kazakhstan pipeline starts to pump oil
(Xinhua/AP)
Updated: 2005-12-15 21:03
ATASU, Kazakhstan -- The 960-km pipeline linking China and Kazakhstan began to carry oil to China on Thursday.
Kazakh President Nursultan Nazarbayev pushed a button at the headquarters of the national KazMunaiGaz company in the capital, Astana to open the flow from the pipeline that starts in the central town of Atasu, 280 km south of Astana.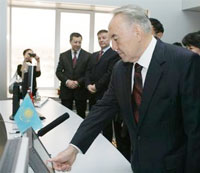 Kazakh President Nursultan Nazarbayev presses a button on a touch-screen monitor in the control centre of the Atasu-Alashenkou pipeline in Astana December 15, 2005. [AP]

"It will work for the good of our two peoples," Nazarbayev said.

The US$700-million pipeline, with an initial annual capacity of 10 million tons and full capacity of 20 million tons, was built by a joint venture between China National Petroleum Corp. and KazMunaiGaz.

The construction of the pipeline started in September 2004.
Qin Gang, Chinese Foreign Ministry spokesman, said China-Russia-Kazakhstan all-round cooperation, in areas such as energy resources, is positive in pushing ahead with common development while conforming to common interests.

He said China is willing to develop multiple energy sources in cooperation with the other two partners in line with the principle of equality and mutual benefit. The variety of sources range from oil and natural gas exploitation to recyclable resources and clean energy.

The new pipeline starts in the central Kazakh town of Atasu and runs to the Altaw Pass in northwestern China. It will initially carry oil from the Kumkol field in central Kazakhstan, which is being worked by CNPC following its acquisition of the field's operator earlier this year.

By 2011, when it reaches full capacity, the pipeline is expected to be used to ship oil from Russia's western Siberia.

The opening of the new pipeline is a small but important step in Beijing's effort to reduce its reliance on Middle East supplies at a time when the country's energy needs are soaring, oil analysts said.

"The new Kazakh pipeline is small but it signals a real Chinese interest in trying to move away from Middle East oil," said Kuen Woon Paik, a researcher at Chatham House, a London think tank.

Chinese oil imports have soared in recent years as the demands of its booming economy outstripped production at domestic fields that once supplied nearly all of the country's needs.

But Beijing worries about possible threats to its supplies of Middle East oil, which have to make a lengthy journey by sea, passing through Southeast Asia's strategic Strait of Malacca.

Beijing also is negotiating with Russia over the construction of a proposed pipeline to deliver Siberian oil. That line, to be completed as early as 2008, would carry about 380,000 barrels per day.

"Both the Kazakh and Russian lines will help China get away from dependence on Middle East oil, said Gavin Thompson, who works in Beijing for the British oil consulting firm Wood Mackenzie.

Most of China's oil imports come from the Persian Gulf and Africa.

Despite the Kazakh and Russian pipelines, most oil analysts believe China will continue to rely heavily on Middle Eastern crude.

"The dependence of China on Middle Eastern crude is very significant and will continue to be so," said Paik. "There is nothing it can do to change this."

A recent analysis by the Chinese Academy of Social Sciences, the government's main think tank, reached the same conclusion.

"It is an unarguable fact that China's dependence on Middle East oil is increasing. And this reliance will continue," said its report. "The Middle East will be the most important supply source of international oil for China."