AIDS move backfires as patients' families shunned
(Reuters)
Updated: 2005-12-15 08:40
Images of China's top leader shaking hands with two AIDS patients, meant to dispel widespread discrimination, have brought mockery instead for their now-shunned families, repoted China Youth Daily.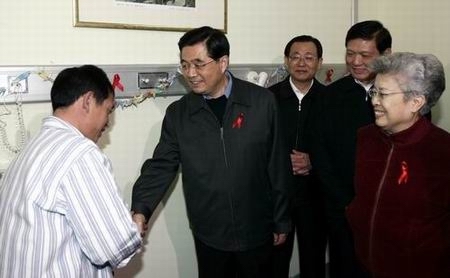 China's President Hu Jintao shakes hands with AIDS patient at a Beijing speciality hospital treating AIDS on November 30, 2004. [Xinhua]
President Hu Jintao made an unprecedented visit to AIDS patients in a Beijing hospital in November 2004, urging the nation "to phase out discrimination and estrangement towards them."
Xiao Wei and Lao Ji (pseudonyms) were among those who met Hu, but state television repeatedly showed footage of the meeting without covering up their faces, China Youth Daily said.
Neighbors in their village in Shanxi province, where they were infected with HIV in the 1990s through blood selling schemes, have made their life miserable ever since, the newspaper said.
"Local officials came to ask Xiao Wei's landlord to expel his family lest the whole village get infected," it said.
Lao Ji's daughter, 11, who has not contracted HIV, had been isolated by schoolmates and mocked by other children. Villagers even refuse to allow chickens raised by the family to leave their backyard, it said.
"I cannot forgive them. It's as if we have been sentenced to death by the villagers," Lao Ji's wife, who is not infected, was quoted as saying.
China has stepped up the fight against HIV-AIDS in recent years after initially being slow to acknowledge its threat, but public fear and ignorance make the battle an uphill one.
Even among better-educated urban dwellers, nearly 60 percent would be "nervous" to have contact with HIV- positive people in public, a Health Ministry survey said.
China says it has 840,000 HIV carriers, but experts estimate a much higher figure, with perhaps one million people in Henan province alone in a botched blood-selling scheme in the mid-1990s.
The government aims to keep the number of cases under 1.5 million by 2010, a number sharply lower than the World Health Organization projection of 10 million if nothing is done to prevent the disease's spread.