AP: China leader still displeased with Japan
(AP)
Updated: 2005-12-15 08:38
Given the frosty relations between China and Japan, their leaders can't really be pen pals.
Chinese Premier Wen Jiabao made clear his continuing displeasure with Japanese Prime Minister Junichiro Koizumi when he ignored Koizumi's request to borrow his pen during a signing ceremony Wednesday at a regional summit in Malaysia.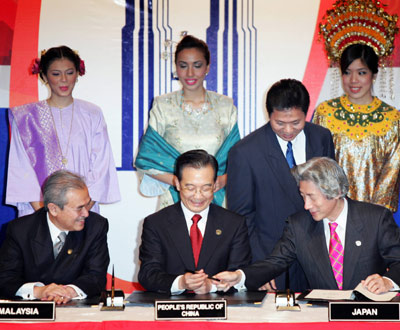 Japanese Prime Minister Junichiro Koizumi (R) returns the pen to Chinese Premier Wen Jiabao (C) as Malaysia Prime Minister Abdullah Ahmad Badawi looks on during the signing of the declaration on the East Asia Summit during the 11th ASEAN Summit in Kuala Lumpur December 14, 2005. [Reuters]
Wen had already refused to formally meet one-on-one with Koizumi at the summit amid a feud over the Japanese leader's visits to a shrine honoring war dead, including 14 Class A WWII war criminals.
As leaders of the newly inaugurated East Asia Summit were signing a declaration on the group's establishment, Koizumi leaned over and asked to borrow his pen.
Wen ignored him for several seconds until Malaysian Prime Minister Abdullah Ahmad Badawi, smiling broadly, intervened to repeat the request. Wen then passed the pen to Koizumi with a smile, but the snub was widely noted in an otherwise uneventful ceremony.
Wen on Monday blamed Koizumi for the chilly relationship between their countries because his five visits to Tokyo's Yasukuni shrine had "deeply hurt the feeling of the Chinese people."
Koizumi remained defensive of his visits to the shrine after the summit ended.
"I just don't understand why anyone should be criticized for offering prayers," he told reporters. "It is absolutely not to glorify or justify war."
Wen ignored most of Koizumi's attempts at affability during the summit's group photos and other public events, although the men did banter about seafood during a lunch on Monday.
Abdullah tried to downplay the incident at a news conference, saying China-Japan relations had not affected the summit.
"They were participating in the discussions. They were sitting together ... they will sort it out," he said.
The goal of the East Asia Summit is to create a bloc to discuss issues that affect the region. The group, which will meet annually, is comprised of Australia, Brunei, Cambodia, China, India, Indonesia, Japan, Laos, Malaysia, Myanmar, New Zealand, the Philippines, Singapore, South Korea, Thailand and Vietnam. Russia attended as an observer, and is pushing to be a full member.
Among the issues discussed at the first summit were terrorism, bird flu and free trade, though few concrete agreements were reached.