Bush: Iraq invasion my responsibility
(AP)
Updated: 2005-12-15 07:17
US President Bush said Wednesday the responsibility for invading Iraq based in part on faulty weapons intelligence rested solely with him, taking on the issue in his most direct and personal terms in the 1,000-plus days since the war's first shots.
"It is true that much of the intelligence turned out to be wrong," Bush said. "As president, I'm responsible for the decision to go into Iraq."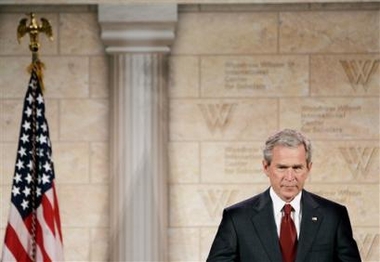 US President Bush waits to speak, Wednesday, Dec. 14, 2005, in Washington. Bush accepted responsibility for going to war with faulty intelligence. [AP]
The president's mea culpa was accompanied by a robust defense of the divisive war.
"Saddam was a threat ¡ª and the American people and the world is better off because he is no longer in power," Bush declared, as he has before.
Democrats were not moved by Bush's speech, the last of four designed to boost his credibility on the war and the public's backing for it.
"There was no reason for America to go to war when we did, the way we did, and for the false reasons we were given," said Sen. Edward Kennedy.
Bush offered few qualms about the failure to find any weapons of mass destruction in Iraq. He said foreign intelligence agencies ¡ª including several for governments who didn't back his decision to invade ¡ª also believed before the war that Saddam Hussein possessed them. And he said his administration has begun making changes to the U.S. intelligence apparatus to head off future errors.
The president also contended the Iraqi president had intended to restart weapons programs.
As in the past, Bush acknowledged no regrets about launching the war despite the problems with his initial justification. He revisited a long list of other previously cited reasons, including Iraqi violations of a no-fly zone in its airspace, Saddam's invasion of Kuwait a decade earlier and Iraq's defiance of United Nations resolutions.
"My decision to remove Saddam Hussein was the right decision," the president said to polite applause from his audience at the Woodrow Wilson International Center for Scholars, a nonpartisan forum for the study of world affairs.
Bush has repeatedly noted that the decision to go to war was his responsibility. And he has acknowledged for more than a year that most of the intelligence behind the claims of Saddam's weapons programs turned out to be faulty. But he has never linked the two so clearly and so personally.