Kazakhstan set to open pipeline to China
(AP)
Updated: 2005-12-15 07:05
Kazakhstan is due to open the valves Thursday on a major pipeline carrying oil to China.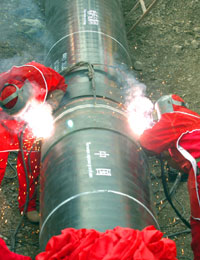 Technicians do the welding after connecting the oil pipeline linking China and Kazakhstan in the Alataw Pass Monday November 14, 2005. [Xinhua]

For the vast Central Asian nation, which is expected to become one of the world's largest oil exporters, the 625-mile pipeline opens a huge market. It is designed to carry 140 million barrels of oil annually to China.

For China, the new route is a key achievement in its efforts to secure energy supplies for its booming economy.

The pipeline is a 50-50 joint venture between state companies China National Petroleum Corp. and KazMunaiGaz.

Kazakh President Nursultan Nazarbayev is expected to push a button at KazMunaiGaz headquarters in the capital, Astana, to open the flow from the pipeline that starts in the central town of Atasu, 174 miles to the south.

Kazakhstan, which possesses the largest oil deposits in the energy-rich Caspian Sea, currently produces about 1.3 million barrels a day, according to the Oil Ministry. By 2015, its oil output is expected to reach 3 million barrels a day.

Until now, the main route for Kazakh oil exports has been the Caspian Pipeline, which was launched in 2001 to join the giant Tengiz oil field in western Kazakhstan with Russia's Black Sea port of Novorossiisk.