Malaysia: Woman in nude squat video identified
(Straits Times)
Updated: 2005-12-14 09:14
The Malaysian authorities said yesterday they had identified a Chinese woman who was forced to strip and perform squats in police custody, but sought to keep her name a secret.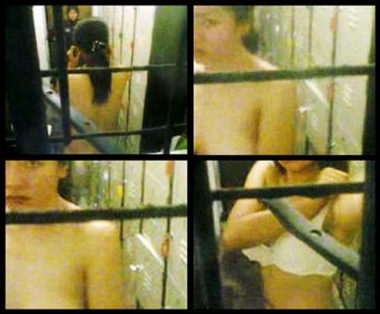 A combination of video grabs from a mobile phone video clip shows a young Chinese woman after she was stripped at a police station in Malaysia. [Reuters]


Government lawyer Suhaimi Ibrahim said a "prime witness" would testify today at an inquiry into the scandal, but he stopped short of confirming whether the witness was the Chinese woman.

"Evidence regarding the identity of the nude woman... will be presented," Mr Suhaimi told a five-member independent panel conducting the public hearings that began yesterday.

"When the prime witness gives evidence, we would like a gag order to prevent the press from publishing the name, photographs or details of the identity" of the woman, he said.

Mr Suhaimi refused to explain the move or clarify whether the Chinese woman is among 21 witnesses summoned to appear before a commission of legal experts and politicians appointed by the government to investigate whether police violated her rights.

Video footage of the woman disrobing and doing squats in the presence of a female officer in a lock-up was secretly shot using a camera phone by an unidentified person and sent to an opposition lawmaker who went public with it last month.

China's government has formally protested and urged action over the alleged mistreatment.

But it remains unclear whether the woman is a Chinese national or a Malaysian ethnic Chinese.

The video has stirred a public outcry in Malaysia about police procedures and bolstered long-standing claims by human rights activists that the authorities routinely mistreat detainees.

Yesterday, a senior police official told the inquiry that ordering detainees to do squats has been a common practice over the past two decades to ensure people arrested were not hiding weapons, drugs or other banned objects.

Police have found drugs and bullets using this procedure in the past, said Mohamad Hazam Abdul Halim, the police chief of Kuala Lumpur's Petaling Jaya district, where the woman was taken into custody.

However, detainees "must be inspected with courtesy," he said, adding that the procedure should only be performed in the presence of one police officer.

The police official said that the nude rear-squat was not stipulated in any standing order nor contained in any police procedure or regulation.

But based on "what was passed on" to him by his senior officers, he had instructed all personnel at the Petaling Jaya police station to follow the procedure, he said.

And he added that failure to follow the verbal order would result in the lower-ranking officers facing disciplinary action.