China moves to fourth in global GDP rankings
(Reuters/chinadaily.com.cn)
Updated: 2005-12-14 08:53
China is likely to declare itself the world's fourth largest economy next week, having leapfrogged Italy, France and Britain, after a widely expected revision of its annual gross domestic product figures.
Economists say the National Bureau of Statistics (NBS), which is due to release part of the results of its first national economic census on December 20, is likely to put a much bigger figure on the size of China's services sector.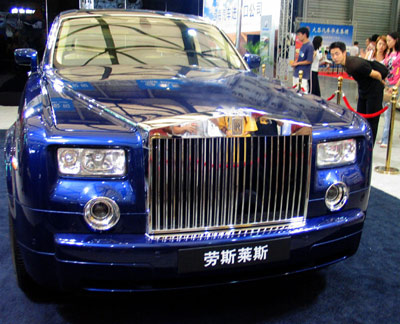 More than 20 Rolls Royce were sold in China in 2004. The number will surpass 30 if bookings are included. [newsphoto/file]
Chinese Premier Wen Jiabao is reportedly telling the East Asia Summit Leaders Dialogue in Kuala Lumpur on Monday that China gross domestic product (GDP) reached US$2 trillion in 2004 following an average economic growth rate of a meteoric 9.4 per cent rise over the past 27 years, since 1978.
Chinese Government hopes to double that figure to US$4 trillion and raise its per-capita GDP to at least US$3,000 by 2020, the English-languge national newspaper China Daily quoted Wen as saying.
The Hong Kong-based The South China Morning Post, citing unnamed economists, reported Tuesday that the agency would probably revise GDP by as much as $300 billion, or about 20 percent of 2004 output.
A revision of that magnitude could catapult China from the world's seventh-largest economy into fourth spot, now occupied by Britain.
Jim O'Neill, chief global economist at Goldman Sachs in London, said China could attain that status even without such a big revision based on growth rates and currency changes in 2005.
Not only has China grown far more quickly than Italy, France and Britain this year, but the yuan has risen about 2.5 percent against the dollar, further boosting its output when measured in dollars. The euro and sterling, by contrast, have fallen.
"China could squeak in ahead of Britain even without a revision," O'Neill said. "It just goes to show how much it's contributing to the world economy."