Jolie & Pitt won't last: ex-lesbian lover
(Agencies)
Updated: 2005-12-13 16:17
Angelina Jolie's former lesbian lover Jenny Shimizu confessed that she still has feelings for the girl, and Jolie's new boyfriend Brad Pitt will never control the wild star.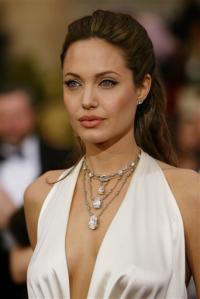 Angelina Jolie arrives for the 76th annual

Academy Awards

in a file photo from Feb. 29, 2004, in Los Angeles. Jolie has been named the sexiest woman in the world by FHM magazine. [AP]

The model/actress first became close to Jolie when they co-starred in 1993 movie Foxfire ¡ªand she tells British newspaper The Sun they developed a deep emotional and sexual relationship over the following decade.

In a Sky One TV documentary the dark-haired beauty said, "There has never been an ending to her and I. I think there never will be. I think we will continue to have a deep relationship. It really does go beyond just the sex."

"Whenever she calls me up I visit her. She's the person I'll always care about and always help and always be there for."

The former Calvin Klein model also confessed she has doubts about what the future holds for Brad -- who split from his wife, "Friends" star Jennifer Aniston to be with Jolie.

She says that she has never met Brad in person, "It seems like he comes from a different place. He wants to have kids and he wants to have a perfect marriage. She's a tough woman who will do everything she wants to.

"I don't think there is any way of controlling Angelina. She's not going to be a housewife."