The queen of blogging
By Wendy Liu (City Weekend)
Updated: 2005-12-13 09:14
"After watching my body, if I expose my face to you then the only thing left will be emotion." Well, in a way I agree - it doesn't matter if she does or does not expose her face on her blog.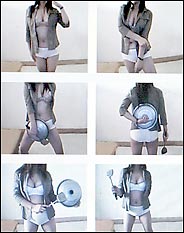 Pictures from the Web log of a self-described Communist Party member from Shanghai who goes by the pseudonym Mu Mu. One expert says China's new bloggers talk back to authority, "but in a humorous way."

Mu Mu is the latest it girl in a string of blogging Chinese following the style of Mu Zimei and the now infamous Sister Lotus, although this new kid on the block again and again has expressed scorn for her two online comrades... or maybe she sees them as competitors.

Just by reading the name of Mu Mu's blog it is immediately evident what content you'll find within: "The Body of a Dancing Girl." The difference between Mu Mu and the string of other copycats is that she posts a sexy photo of her body, sans face, with every diary entry.

Her body is quite hot and her writing is very decent indeed, so it really is no surprise that her fame has spread like wildfire throughout the online world.

Almost all of Mu Mu's photos feature her in a skimpy bikini striking sexy pose after sexy pose, which is why people compare her with Mu Zimei who is well known for the way her diary entries are always descriptions of sex acts.

Sex sells and these two girls know it. But according to Mu Mu, they are selling different things.

"We are two completely different people. Some like to exchange peacockery with her and men's privacy. But I do not. Look at her flat body and you will discover that we are totally different," says the pouty Mu Mu. She is setting her sights at the top of blogging fame and doesn't mind stepping on others to get to the there.

But some visitors to her blog doubt whether the photos are really of Mu Mu's body, and many want to see her face. Rumors abound that she may have a hot body, but she probably doesn't show her face because she is dog ugly.

She answers these accusations in the intro to her blog: "My body is not a secret to you, as long as you see my face, when the four eyes meet, the only thing that can happen is love."

So it is a public service she is providing by not showing her face. And her tactics are working as the number of people logging onto her online diary has already clicked past 10,000.

"I began to write this blog in July this year thinking that if I received over 10,000 visitors I would stop, but now with so many visitors I am unable to stop!"

I appreciate Mu Mu's witty and mature writing style. She actually understands the fun of irony and writes about reading, other authors and discusses topics like marriage in a most thoughtful way.

She steers away from being overtly sexual in her diary entries, which is refreshing as any fool can blog about trashy romances [see Mu Zimei]. In this way, Mu Mu deserves her fame much more than the other flash in the pan female bloggers.

What really got me hooked on Mu Mu though, was a comparison made to Zweig - an Austrian biographer, essayist, short story writer and cosmopolitan, who advocated the idea of an united Europe under one government and is extremely popular among China's youth - who famously said, "I write because I am desperate." "But I write because I am excited," says blogger. Mu Mu really is a rising star to watch.