US nears agreement to join climate talks
(AP)
Updated: 2005-12-10 14:31
After two contentious weeks, the United States neared agreement with an array of other countries late Friday to join in global talks about possible new steps to combat climate change, the chief U.S. negotiator said.
"We're getting very close. I'm quite confident we will have a successful outcome," Harlan Watson told The Associated Press as the U.N. climate conference entered its final hours.
Any agreement would probably be only a small step forward, however, by a Bush administration that for days resisted Canadian and other efforts to draw it into multilateral talks on mandatory reductions in greenhouse-gas emissions in the period after 2012. US President Bush three years ago renounced the Kyoto Protocol, which mandates such cuts before 2012, saying they would damage the U.S. economy.
Delegates were buoyed earlier in the day by an appearance by former President Clinton, a Kyoto supporter, who told them in a speech punctuated by enthusiastic applause that Bush's economic argument is "flat wrong."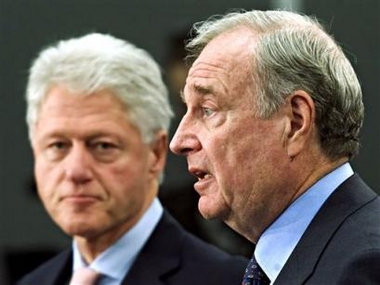 Former U.S. President Bill Clinton listens to Prime Minister Paul Martin respond to a question during a news conference at the United Nations Climate Change Conference in Montreal, Friday Dec. 9, 2005. [AP]

But the ex-president urged the negotiators to find a way to "work with" the current U.S. administration.

Canadian officials said the U.S. delegation was displeased with the last-minute scheduling of the Clinton speech. But U.S. delegation chief Paula Dobriansky issued a statement saying events like Clinton's appearance "are useful opportunities to hear a wide range of views on global climate change."

In days of haggling here, the proposal presented to the Americans had been watered down to the point of saying that the "dialogue" over future actions "will not open any negotiations leading to new commitments."

In a parallel development, the 157 nations that do subscribe to the Kyoto Protocol were nearing agreement on a separate, more concrete plan to negotiate deeper, post-2012 cuts ¡ª without U.S. participation.

The Montreal meeting was the first of the annual climate conferences since the Kyoto Protocol took effect last February, mandating cutbacks in 35 industrialized nations of emissions of carbon dioxide and five other gases by 2012.

A broad scientific consensus agrees that these gases accumulating in the atmosphere, byproducts of automobile engines, power plants and other fossil fuel-burning industries, contributed significantly to the past century's global temperature rise of 1 degree Fahrenheit.

Continued warming is melting glaciers worldwide, shrinking the Arctic ice cap and heating up the oceans, raising sea levels, scientists say. They predict major climate disruptions in coming decades.