Thatcher 'cannot remember start of sentence'
(AFP)
Updated: 2005-12-10 14:14
Former British prime minister Margaret Thatcher's short-term memory has faded to the extent that she cannot remember the start of a sentence by the end, her daughter Carol has revealed.
The "Iron Lady", 80, who has suffered a series of minor strokes, can still vividly recall events in the distant past but no longer reads much because it is "pointless", Carol Thatcher said, describing her mother as "very frail".
"For someone who had such an exciting life, she doesn't take well to having time on her hands," journalist and broadcaster Carol, 52, told the Daily Mail newspaper.
"She doesn't read much because of her memory loss. It's pointless. She can't remember the beginning of the sentence by the time she reaches the end. She picks up on little bits of the news."
Thatcher, who was Conservative PM from 1979 to 1990, spent Wednesday night in a London hospital after feeling faint.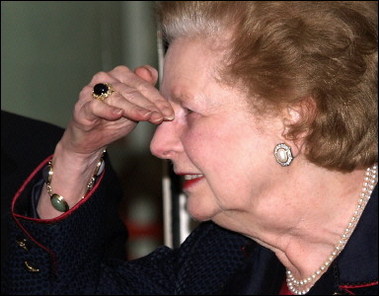 Former British prime minister Margaret Thatcher. [AFP/file]

Declaring "I feel fine," she checked out Thursday.

Carol Thatcher said: "The memory loss is very strange because her recollection of distant events is still sharp. A friend commented to her the other week: 'Oh, Margaret, it's like rationing!'

"Immediately, my mother sparkled and this fellow got 15 minutes on wartime privations, including all mum's favourite recipes for Spam.

"She can talk very lucidly about things that happened half a century ago but she cannot remember the last minute. She's had a series of very small strokes and that's the net effect.

"People say: 'It must be really annoying for you,' but I always say: 'No, it's incredibly frustrating for mum'."

"She had such a brilliant memory -- like a website. She could quote inflation statistics going back years without reference to a single note. It must be so infuriating for her.

"And, of course, she misses dad."

The former premier was hit hard by the death in 2003 of her husband, Denis Thatcher, as well as by a four-year suspended prison sentence given in the last year to her son Mark for his part in a coup attempt in Equatorial Guinea.

"She just sat and worried when she was on her own," Carol Thatcher said of the scandal involving her twin brother.

She said she was not close to Mark Thatcher.

"We don't talk to each other. I don't know where Mark is living now."

Carol Thatcher last week emerged the winner of a prime-time British reality television show set in an Australian rainforest, titled "I'm A Celebrity... Get Me Out Of Here!"

The show involves several gruelling challenges, including eating foul dishes, with the contestants voted out by the public one by one.

"The kangaroo testicle was squelchy, a bit disgusting and very difficult to chew," Carol Thatcher told the Daily Mail.

On hearing of yet another Thatcher election victory, her mother commented: "I'm proud. She showed true Thatcher spirit."

The now Baroness Thatcher of Kesteven set Britain on a new course in the 1980s, transforming the kingdom's woeful economy into a powerhouse.

In October she celebrated her 80th birthday at a five-star London hotel with guests including Queen Elizabeth II, Labour Party Prime Minister Tony Blair -- who has expressed admiration for her and appropriated many of her policies -- and other luminaries.

Admired by some, despised by others, Britain's only female prime minister radically changed the nation during her 11 years in power, rivalling wartime leader Winston Churchill for a place in the history books.