FMs of South Korea, Japan meet on sidelines of ASEAN summit
(AP)
Updated: 2005-12-10 13:29
The foreign ministers of South Korea and Japan met Saturday on the sidelines of an Asian summit in Kuala Lumpur, a South Korean official said, amid a row over allegations that Tokyo is glossing over its imperialist past.
Seoul's Foreign Minister Ban Ki-moon met his Japanese counterpart, Taro Aso, at Ban's hotel, one of his aides said on condition of anonymity because he is not authorized to speak to the press.
"They met this morning, but I cannot give you further details," the official said.
The official said, however, that his country's president, Roh Moo-hyun, won't meet Japanese Prime Minister Junichiro Koizumi on the sidelines of annual summits with the Association of Southeast Asian Nations scheduled for next week.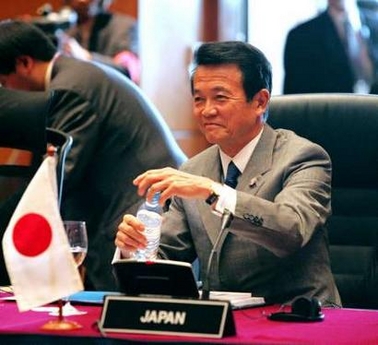 Japan's Foreign Minister Taro Aso smiles before the start of the ASEAN + Japan foreign ministers meeting at Kuala Lumpur Convention Center, ahead of next week's 11th ASEAN Summit and the inaugural of the East Asia Summit, in Kuala Lumpur December 9, 2005. [Reuters]

Relations between Seoul and Tokyo have seriously frayed in a series of disputes this year, including over Japanese school history textbooks critics say minimize the country's wartime atrocities.

A visit by Koizumi to a shrine honoring Japan's war dead, including convicted war criminals, has also raised Seoul's ire.

South Korea, a colony of Japan from 1910-45, regards such moves as a sign that Japan hasn't truly repented for its wartime past, despite numerous apologies by its leaders.

Last month, Aso angered South Korea by saying that only South Korea and China complain about Koizumi's shrine visits. Seoul expressed strong regret.

Ban said late last month that Seoul was not considering holding a bilateral summit with Tokyo during the ASEAN-related summits, but said he would use "spontaneous opportunity" to meet Aso to discuss the history row.

"I'm thinking of telling (Aso) that he, as foreign minister, should take a more cautious attitude and that would be helpful to resolving various pending issues amicably," Ban said at that time.

Aso's standing in South Korea fell further last month when a government commission examining forced labor under Japanese colonial rule noted that his family at the time ran a coal mining company _ Aso Mining Co. _ that used more than 10,000 Korean forced laborers.