India, South Korea strengthen trade ties with Southeast Asia
(AP)
Updated: 2005-12-10 10:40
India is heading for closer trade ties with Southeast Asia, as is South Korea, though its efforts have been complicated by a dispute over rice. Japan says its free trade deal with the region is faltering.
Notwithstanding the mixed results, the free trade negotiations underline the desire of the 10-member Association of Southeast Asian Nations _ with a combined economy of more than US$1.4 trillion (euro1.18 billion) _ to deepen trade ties with some of Asia's largest economies.
The negotiations also show that some Asian governments are just as sensitive to protecting their farmers as their European counterparts, a key stumbling block in advancing World Trade Organization talks.
Regional economic integration will be a key theme of the coming week's meetings in Kuala Lumpur between ASEAN leaders and counterparts from Japan, China, South Korea and India.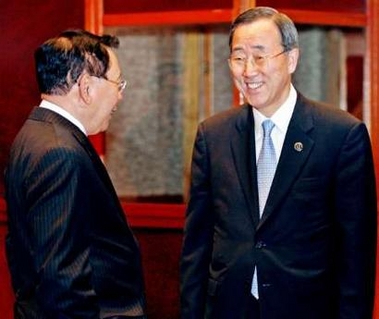 South Korea's Foreign Minister Ban Ki-moon (R) talks to his Philippines' counterpart Alberto Romulo before the start of the ASEAN + Korea foreign ministers meeting at Kuala Lumpur Convention Center, ahead of next week's 11th ASEAN Summit and the inaugural of the East Asia Summit, in Kuala Lumpur December 9, 2005. [Reuters]

Those talks will be followed by the inaugural East Asia Summit, which aims to create a region-wide economic community, including Australia and New Zealand.

South Korea on Friday signed an accord on free trade in goods with nine ASEAN members as a 10th member, Thailand, stayed away, objecting to Seoul's refusal to lower tariffs on rice. But Thailand, the world's top exporter, said it may negotiate its entry into the deal later.

"Once you take rice out of the list, I think both Thailand and Korea have to spend time to discuss further to find a rice solution so we can agree," Thai Commerce Minister Somkid Jatusripitak said.

"We decided to defer ... the time has been too short," he said.

South Korean rice farmers are an important political lobby who have protested violently against market-opening deals reached earlier with China, the U.S. and others.

Also Friday, Japan's minister of economy, trade and industry Toshihiro Nikai, acknowledged that free trade negotiations with ASEAN had failed but proposed new talks in a more casual setting, which his hosts accepted.

"We have to produce results," said Nikai, adding that the two rounds of free trade talks that began in April were faltering. "We would like ASEAN nations to see Japan as a trustworthy nation."

Japan has been nervous about falling behind China and South Korea on free trade agreements with ASEAN. China signed a trade accord with Southeast Asia last year.

Japan and ASEAN are at odds over tariff reductions, and some ASEAN members had complained that Japan was pushing separate deals with member nations that confused the overall talks, Japanese officials said.

Japan has free trade agreements with only Singapore and Mexico so far, although it's set to sign a pact with Malaysia next week during the ASEAN and East Asia Summit meetings.

Japan is Malaysia's third-largest trading partner and the countries say they expect it to significantly boost their US$30 billion (euro25.5 billion) annual trade, allowing Japan's automakers, banks and consumer-goods makers greater access to the Malaysian market.

Meanwhile, India's pact with Southeast Asia, while still under negotiations, is expected to come into force by 2007.

"The negotiation is on the verge of completion. We have passed many, many milestones," Indian Commerce Minister Kamal Nath told reporters. The deal is expected to increase trade between India and ASEAN by 30 percent annually, he said.

ASEAN-India annual trade jumped 40.8 percent last year over 2003, from US$12.5 billion (euro10.6 billion) to US$17.6 billion (euro14.96 billion). That marked its biggest-ever annual rise, it's still tiny compared with ASEAN's US$136 billion (euro115.61 billion) in annual trade with the United States.