ASEAN, China ties praised by Malaysia
(China Daily)
Updated: 2005-12-10 06:40
KUALA LUMPUR: Malaysian Foreign Minister Syed Hamid Albar on Friday described the relationship between the Association of Southeast Asian Nations (ASEAN) and China as "practical and pragmatic," saying their co-operation has "contributed to the regional peace, security and prosperity."
Briefing a press conference, Hamid said it sets "a good model of bilateral relations between ASEAN and its dialogue partners," and ASEAN ministers believe the ties with China are "more active and practical as compared to other dialogue partners."
Hamid, who attended the ASEAN Ministerial Meeting and ASEAN-China Ministerial Meeting in the morning, told reporters on Friday afternoon that almost three quarters of the planned programmes between ASEAN and China have been implemented. "The relations are very practical and pragmatic," he noted.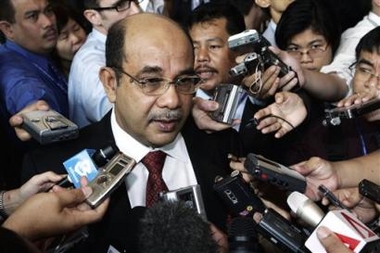 Malaysia Foreign Minister Syed Hamid Albar speaks to reporters after the ASEAN foreign minister meeting at the Kuala Lumpur Convention Center in Kuala Lumpur, Malaysia, Friday, Dec. 9, 2005. [AP]

He said that during the morning meeting, China proposed five new additional priority areas for co-operation transportation, energy, tourism, culture and public health which were very much welcomed by ASEAN.

To mark 15 years of co-operation between ASEAN and China, the ministers proposed to focus on the need for people-to-people contacts, especially among the young, Hamid said, adding that they have also recommended the establishment of a centre for Asia and China studies in Viet Nam, and an ASEAN-China foundation to deepen their relations and promote comprehensive social and cultural activities.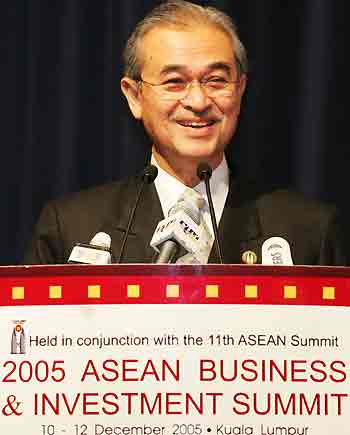 Malaysian Prime Minister Abdullah Ahmad Badawi smiles as he delivers his keynote address during the launch of the 2005 ASEAN Business and Investment Summit in Kuala Lumpur December 10, 2005.[Reuters]

Malaysia will host the 11th ASEAN Summit and related summits on December 12-14, and ministers from the ASEAN and some of its dialogue partners were due to meet on December 9-11 to make preparations.

ASEAN groups Brunei, Cambodia, Indonesia, Laos, Malaysia, Myanmar, the Philippines, Singapore, Thailand and Viet Nam; and China, Japan, the Republic of Korea, Australia, India, Russia and New Zealand are among its dialogue partners.

In a related development, Hamid was quoted as saying that Japan must work hard to improve ties with China.

Syed Hamid Albar cited serious problems in China-Japan relations during a meeting between Japanese Foreign Minister Taro Aso and counterparts from the ten members of the ASEAN.

"We hope Japan will work hard to improve relations," Hamid was quoted as saying by Japanese Foreign Ministry official Takio Yamada.

The comments came as China's Foreign Minister Li Zhaoxing again criticized Japanese leader for visiting a shrine to his country's war dead. "One country's leader visits a shrine to worship war criminals. This is unacceptable," Li told reporters in Kuala Lumpur.

(China Daily 12/10/2005 page2)