Fat finger costs Japanese broker US$225m
(Guardian/Agencies)
Updated: 2005-12-10 06:34
It is known as fat finger syndrome the occasional tendency of stressed traders working in fast-moving electronic financial markets to press the wrong button on their keyboard and, in the process, lose their employer a mint.
On Thursday it hit the Tokyo stock exchange, and in spectacular fashion.
An unnamed and, presumably, shortly to be unemployed broker, managed to sell 610,000 shares at 1 yen (less than a penny) apiece in a job recruiting firm called J-Com Co, which was having its public debut on the exchange. It had actually intended to sell 1 share at 610,000 yen (US$5,041).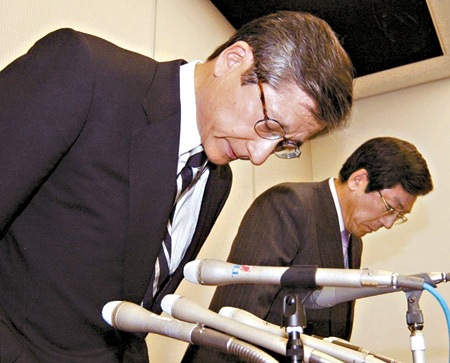 Mizuho Securities President Makoto Fukuda (foreground) bows in apology at a news conference on Thursday, after the brokerage made a huge errant order in newly listed shares of small recruitment firm J-Com Co. [Reuters]

Worse still, the number of shares in Mizuho Securities Co's order was 41 times that J-Com's true outstanding amount, but the Tokyo Stock Exchange processed the order anyway.

The error caused Mizuho to lose at least 27 billion yen (US$225 million) on a stock trade, which could prove to be the most expensive trading error in history.

The glitch roiled the Japanese market, and jitters over the reliability of the exchange's trading system, contributing to a 1.95 per cent drop in the benchmark Nikkei 225 index on Thursday.

The index, up 33 per cent this year on optimism about the nation's recovery, was trading mostly flat on Friday.

For a few hours on Thursday, amid frenzied dealings, the identity of the brokerage firm concerned remained a mystery. Only after trading had closed did Mizuho Securities, the broking arm of the Mizuho Financial Group, own up.

"We deeply regret having caused such a big problem," Mizuho said in a statement. "We are investigating what happened, and discussing with the exchange how to handle the issue." What might happen next was the subject of widespread debate.

So-called fat finger errors, while rare in electronic financial markets, are accepted as an inevitable risk when humans come into contact with computers in frenetic trading conditions. But such mistakes are usually spotted quickly, with the resultant "rogue" trades being unwound between the affected parties.

In the Mizuho case, however, no immediate action seems to have been taken, leaving scores, if not hundreds, of investors across the Tokyo market to carry on trading stock that had been sold in error.

Mizuho says it tried to cancel the order three times, but the exchange said it does not cancel transactions even if they are executed on erroneous orders.

It was not clear what action, if any, would be taken against the broker responsible, but the mistake will have caused ample embarrassment for Mizuho, Japan's second-biggest bank.

Japan's financial sector, meanwhile, was waiting to gauge the scale of the damage to its reputation.

The Tokyo Stock Exchange suspended trading of J-Com on Friday, but declined to specify how it will sort out a mess created by the botched order. Mizuho Financial Group said it would fully back its security arm's losses from erroneous trades on J-Com.

Fat finger trades are by no means purely an Asian phenomenon.

In October 2002, a trader at the US bank Bear Stearns was blamed for a 100-point drop in the Dow Jones after he entered a US$4 billion sell order instead of the intended US$4 million order.

(China Daily 12/10/2005 page1)