US jet slides off Chicago runway; boy dies
(AP)
Updated: 2005-12-09 12:40
A US jetliner trying to land in heavy snow slid off a runway, crashed through a fence and slid into a busy street, hitting one vehicle and pinning another beneath it.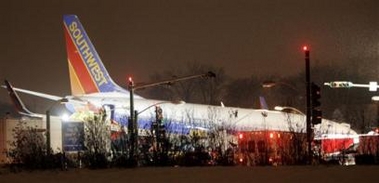 A Southwest Airlines Boeing 737 rests at the intersection of West 55th Street and Central Ave., after it skidded off the runway while trying to land in heavy snow in Chicago, Thursday, Dec. 8, 2005. [AP]
A 6-year-old boy in one of the vehicles was killed, authorities said. He was among eight people hurt on the ground. Two passengers on the plane suffered minor injuries, Aviation Department spokeswoman Wendy Abrams said.
Southwest Airlines Flight 1248 from Baltimore was landing at Midway International Airport with 90 passengers. The airport reported 7 inches of snow Thursday, but Abrams said runway conditions at the time were acceptable.
The nose of the plane was crushed in the 7:15 p.m. accident and a severely damaged engine was on the ground, Chicago Fire Department spokesman Larry Langford said.
"It got really bumpy, and then a big crashing sound," passenger Katie Duda told WMAQ-TV. The next thing she knew, the airplane had skidded past the airport and into the street, she said.
"Everyone was very calm. Everyone around me seemed very OK," she said.
The passengers used inflatable slides to get out of the plane in the blowing snow.