Genetic map of dog may help humans
By Karen Kaplan (Times)
Updated: 2005-12-09 10:33
Scientists have decoded the complete genome of the domestic dog, a milestone announced Wednesday that provides a biological roadmap for unraveling human diseases and probing the mysterious bond between man and his best friend.
Dozens of researchers worked for two years deciphering and analyzing the 19,300 genes belonging to a 12-year-old boxer named Tasha. What they found was an exceptional correlation between the DNA of Canis familiaris and Homo sapiens, according to a study published today in the journal Nature.
"Humans and dogs have essentially the same genes," said lead author Kerstin Lindblad-Toh, co-director of the genome sequencing and analysis program at the Broad Institute of MIT and Harvard University. "Every gene has a gene with the same function in the other genome."
That closeness is reflected in the numerous diseases shared by dogs and humans, including cancer, heart disease, blindness, epilepsy and diabetes.
Of the 10 most common diseases in dogs, eight are important to humans.
The completion of the dog genome offers the possibility that idiosyncratic dog breeds ! often specifically bred for behavioral traits such as obedience, viciousness or docility ! will help illuminate the elusive genetic instructions that account for the infinite variety of human personalities.
"There are angry breeds, mean breeds, calm breeds and nice breeds," said Hans Ellegren, a professor of evolutionary biology at Uppsala University in Sweden. "This is now the best possibility we have to map the genes that are involved in these traits."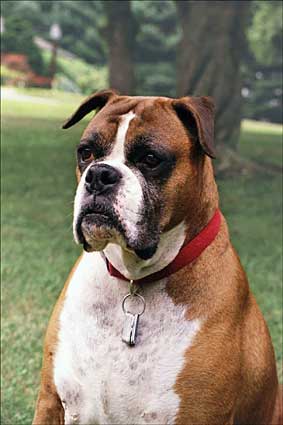 The purebred boxer was chosen from among 120 screened dogs because her genes showed the least amount of variation.
Tasha, a stout purebred female with a brown-and-white coat and drooping jowls, was selected from 120 dogs screened by the National Human Genome Research Institute in Bethesda, Md., because her genes showed the least amount of variation.
Only female dogs were considered because they have two X chromosomes, which researchers wanted to map in detail.
Scientists refused to say much about Tasha, the pet of an unidentified family.
Her stoical photo, however, now hangs prominently on the Mammalian Wall of Fame at the Broad Institute in Cambridge, Mass., where the sequencing work was completed.
The researchers reported that the complete dog genome consists of 2.4 billion chemical letters ! commonly known by the letters A, T, C and G ! compared with about 3 billion for humans.
In comparing Tasha's genome with genetic data from 10 other breeds, the researchers cataloged about 2.5 million specific genetic differences among dogs, which dictate differing sizes, proportions, temperaments and propensity for disease.
Dogs are a genetically unique case among mammals because of intensive selective breeding, which began a few hundred years ago and created the roughly 400 breeds that exist today.
The first breeds were probably molded for hunting and other work. By the Victorian era, about 150 years ago, form trumped function.
"Very rich Victorians wanted these strange dogs as curiosities, to set them apart from the common man," said Robert K. Wayne, an evolutionary biologist at UCLA who contributed to the study.
A breeder who noticed a puppy with short legs, for example, would cross it with its siblings to fix that trait in a line.
Before writing "On the Origin of Species," Charles Darwin visited dog breeders to observe the wide genetic variability among breeds that can result from selective breeding.
Before such breeding began in earnest, the chromosomes of dogs were as varied as in other animals.
By mating close relatives to produce animals with specific traits ! a kind of forced evolution ! breeders erased much of the genetic diversity within each breed.