US, China eye cooperation on Iraq, Iran
(AFP)
Updated: 2005-12-09 07:08
WASHINGTON (AFP) - The United States and China are eyeing possible cooperation on such diverse issues as Iraq, Afghanistan, Iran and North Korea, US State Department said after talks among senior officials.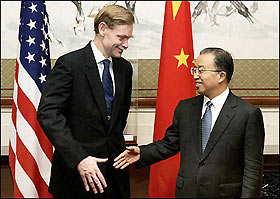 US Deputy Secretary of State Robert Zoellick (L) greets Chinese Deputy Foreign Minister Dai Bingguo in Beijing, August 2005. [AFP]

"Without always pursuing the same policies, we can still pursue the same policy goals with complementary approaches," Deputy Secretary of State Robert Zoellick said after the second round of the so-called US-China Senior Dialogue.

Zoellick, who led the US side, said they discussed over two days "how China could work with the United States and others on challenges such as Iraq, Afghanistan, Iran and North Korea."

They dwelt on "overlapping interests" in fighting terrorism, preventing the proliferation of weapons of mass destruction, building energy security, and reducing the risks of pandemic disease, he said.

"We noted that by anticipating challenges and discussing problems openly, including in those areas where we may not agree, we are more likely to advance our mutual interests and manage our differences," he said in a statement.

Zoellick said the discussions were "constructive" in helping to enhance bilateral cooperation "for a more secure and prosperous world that respects human rights and the rule of law."

Vice Foreign Minister Dai Bingguo led China's delegation at the meeting, following up on the inaugural strategic talks launched in August in Beijing.

The dialogue arose from a suggestion by Chinese President Hu Jintao to President George W. Bush a year ago.

Zoellick said the dialogue could guide cooperation between the United States and China in a number of fields.

Recent bilateral discussions on how the two sides could cooperate in Africa, and "on the dangerous mix of terrorism and weapons of mass destruction," would be expanded to cover other regions -- Latin America and South and Central Asia, he said.