China confirms fifth human case of bird flu
By Zhang Feng (China Daily)
Updated: 2005-12-09 06:03
A suspected human case of bird flu in October has been confirmed, the Ministry of Health said last night.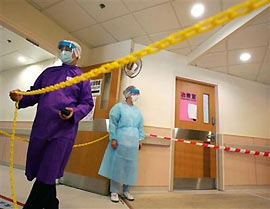 Nurses cordon a corridor inside a hospital as part of a drill on the outbreak of bird flu in Hong Kong November 8, 2005. [Reuters]

It is the fifth human infection China has reported in the past two months. Of the other four, two were reported in East China's Anhui Province, and one each in Central China's Hunan Province and South China's Guangxi Zhuang Autonomous Region.

The latest victim is a 31-year-old woman surnamed Liu from Heishan County in Northeast China's Liaoning Province.

She had symptoms of acute pneumonia, such as high fever and breathing difficulty, on October 30. She later recovered and was discharged from hospital on November 29.

Experts had known that she owned chickens which died of bird flu and kept a check on her.

She tested negative for laboratory tests before December 5 but on that day, experts from the Chinese Centre for Disease Control and Prevention tested her blood samples again and she tested positive for the deadly H5N1 strain of the virus.

All the people who had close contact with her are free from the disease.

Of the four earlier cases, the two in Anhui are dead. The Hunan boy has recovered and the girl in Guangxi, who was confirmed with the infection on Tuesday, is still in hospital.

Meanwhile, the State Forestry Bureau yesterday set up a State-level surveillance station for wild-life epidemics in Shenyang, capital of Liaoning Province.

The station will monitor various infectious diseases and their sources among wild animals, especially migratory birds, Zhao Liangping, director of the station, said yesterday.

Migratory birds have been confirmed by scientists as one of the carriers of the avian influenza virus.