Meeting with Japan, South Korea ruled out
(Reuters)
Updated: 2005-12-08 19:59
China on Thursday ruled out a three-way meeting with Japan and South Korea this year, because of tensions triggered by Japan's wartime past -- the first time the meeting hasn't been held in six years.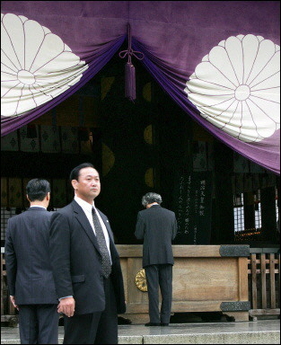 China and South Korea will refuse to hold a customary three-way meeting on the sidelines of an Asian summit in December in Kuala Lumpur amid tensions over wartime history. [AFP]
The trilateral meeting was due to take place as part of a gathering of Asian leaders in Malaysia on December 14.
The three countries will attend the inaugural meeting of the East Asian Summit, which grew out of annual meetings between the Association of South East Asian Nations (ASEAN) and China, Japan and South Korea.
Chinese Foreign Ministry spokesman Qin Gang told reporters at a news conference in Beijing that the trilateral meeting would not take place.
"For the reasons known to you all ... there have been no plans recently to hold such a trilateral meeting," he said.