Suicide bombing on bus in Iraq kills 30
(AP)
Updated: 2005-12-08 19:10
A suicide bomber who jumped on a bus after security checks had been completed detonated an explosives belt among passengers heading to a Shiite city Thursday, killing up to 30 people and wounding nearly 40, officials said.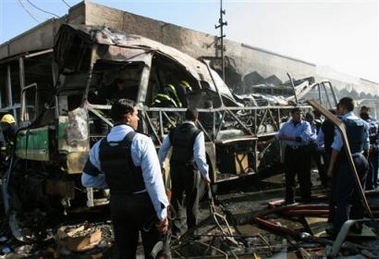 Iraqi policemen inspect the site of a suicide attack in a bus station in Baghdad, Iraq Thursday, Dec. 8, 2005. A suicide bomber detonated an explosive belt in a bus as it was about to depart for a Shiite city in the south, killing at least 12 people and wounding 27, police said. [AP]
Most of those killed were on the bus, which was gutted by flames, but several people gathered around a nearby food stall were also killed, police said. A hospital official said at least 37 people were injured.
Police said the attacker waited until the bus was slowly pulling away from the station, then jumped on board to avoid security checks. Police said the death toll was especially high because the blast triggered secondary explosions in gas cylinders stored at the food stall.
The blast occurred a week before national elections, and officials had warned of a surge in violence ahead of the balloting.
Several other explosions rumbled through the heart of the capital Thursday morning, including one that struck an American convoy killing a U.S. soldier, the military said. The latest death raised the number of U.S. service members who have died since the Iraq war started in March 2003 to at least 2,131, according to an Associated Press count.
Witnesses told police that the suicide bomber left a car, boarded the packed bus and blew himself up as it was leaving for Nasiriyah, 200 miles southeast of Baghdad, police Lt. Ali Mitaab said.
Fire swept through the bus, trapping passengers who had been headed to the southern city for the weekend, which starts here on Thursday evening. Charred corpses were left in the seats, their faces starring out through the shattered windows. Police climbed over the top of the vehicle inspecting what remained of luggage.
"As the bus was going outside the station, a man carrying a bag tried to got into the bus, but the conductor was suspicious about him," police Lt. Wisam Hakim said. "He tried to stop him but the man insisted. He sat in the middle of the bus and then the explosion took place."
The attack occurred at the major bus station for vehicles headed to the mostly Shiite areas of the south.
Last August the station was the scene of a horrific triple car bombing that killed at least 43 people and wounded 89.