Deaths rise to 74 in Hebei coal mine blast
(Xinhua)
Updated: 2005-12-08 13:49
SHIJIAZHUANG -- The death toll in a coal mine explosion in Tangshan City rose to 74 and 32 are still missing, the city government said Thursday.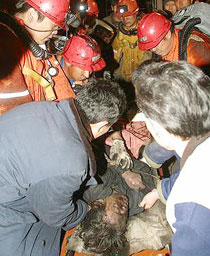 A survior is rescued out of the Tangshan mine December 7, 2005. [Xinhua]

Rescuers had found the remains of 71 miners in the laneway and brought 32 others to the ground alive as of 11:00 a.m. Thursday, but three of them died in hospital, an official told a news briefing.

Altogether 152 rescuers are trying to reduce gas density in the laneway in their search for the 32 miners who remain missing after the blast occurred at 3:30 p.m. Wednesday at the Liuguantun coal mine in Kaiping District of Tangshan, possibly caused by gas explosion.

The mine coal management reported that 82 miners got out safely shortly after the blast and 104 others were trapped underground. But investigators found the exact number was two more than that.

The coal mine, formerly state-owned, was privatized in 2002 with a designed annual production capacity of 300,000 tons.

Two senior officials respectively in charge of work safety and coal mine safety have arrived at the site of the coal mine blast Wednesday evening to direct the rescue operation.

Li Yizhong, director of the State Administration of Work Safety, and Zhao Tiechui, director of the State Administration of Coal Mine Safety, were in a 14-member team to direct rescue efforts on the blast site.

The coal mine used to be a state-owned mine run by the local government with a designed production capacity of 300,000 tons per year. In 2002, it was transformed into a private mine with an annual capacity of 150,000 tons.

It is said to be a low-gas coal mine, according to a report from the provincial administration of coal mine safety.