Iraqi kidnappers extend deadline two days
(AP)
Updated: 2005-12-08 08:30
Kidnappers extended a deadline until Saturday in their threat to kill four captive peace activists and posted a video of two of the hostages wearing robes and shackled with chains.
The original deadline set by the group calling itself the Swords of Righteousness was Thursday. The extention was announced in a statement that accompanied Wednesday's video, according to Al-Jazeera and IntelCenter, a government contractor that does support work for the U.S. intelligence community.
Norman Kember, 74, of London, Tom Fox, 54, of Clear Brook, Va., and the Canadians James Loney, 41, and Harmeet Singh Sooden, 32, were taken hostage in Baghdad two weeks ago.
They were working for the Christian Peacemaker Teams, an anti-war group, and are among seven Westerners who have been abducted in Iraq since Nov. 25. The other hostages are an American, a German and a Frenchman.
The other American in captivity was shown Tuesday on a separate insurgent video broadcast on Al-Jazeera. On Wednesday, his brother in the United States identified the captive as Ronald Schulz, 40, an industrial electrician from Alaska.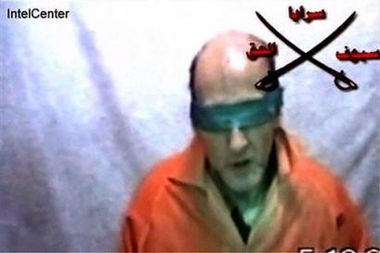 This still image made from video and released Wednesday, Dec. 7, 2005 by IntelCenter, a government contractor that does support work for the U.S. intellegence community, shows Tom Fox, 54, from Clearbrook, Va. [AP]

"I don't want to get my brother killed," Ed Schulz said. "But the fact that he has blond hair and blue eyes might get him killed."

The brief videotape of the Christian peace activists transmitted Wednesday by Al-Jazeera did not show faces of the two robed and shackled figures. However, still photos provided by IntelCenter showed the two were Fox and Kember. The two other hostages were not shown.

Fox and Kember were blindfolded, and the stills appeared to have been made from a more complete version of the video that Al-Jazeera aired. Unlike the civilian clothing they were wearing in two earlier videos, this time the hostages were wearing orange jumpsuits.

In the tape, the two captives made statements condemning the U.S. and British presence in Iraq. Both men were instructed to give their statements twice, which they did without reading a text because they were blindfolded, according to IntelCenter. As a result, each man's second statement was slightly different from his first.

"I'd like to offer my plea to the people of America, not the government of America, a plea for my release from captivity and also a plea for a release from captivity of all the people of Iraq who are also suffering the same fate," Fox said in the transcript, provided by IntelCenter. "And that is the occupation of the American troops and the British troops which has brought me to this condition and has brought the Iraqi people to the condition they're in."

In his statement, Kember appealed to British Prime Minister Tony Blair.

"I ask Mr. Blair, the British government and the British people to work both for my release and for the release of the Iraqi people from oppression."

A senior Iraqi official said Wednesday that "intelligence and security efforts" were under way to win the release of the Western hostages,

Maj. Gen. Hussein Ali Kamal, deputy interior minister for intelligence, said efforts were "aiming and hoping for the release of those people who came to Iraq to provide humanitarian services."

Religious and political leaders abroad ¡ª including the Rev. Jesse Jackson and former German Chancellor Gerhard Schroeder ¡ª called for the hostages' release.

British Foreign Secretary Jack Straw said his government would not meet the kidnappers' demands.

"It's a desperate situation for Mr. Kember and the fellow hostages and their families. We've had no contact (with the kidnappers) but we are obviously aware of their so-called demands."

Jackson, who has been involved in negotiating freedom for hostages in Iraq, Syria and Cuba, told CNN that he was appealing for the peace activists' freedom.

"Those four men are not soldiers. They're not spies. They do not have guns," Jackson said. "They should not be used as trophies and killed in the process."

Jackson said he has not had any response to his efforts to make contact with the kidnappers.

"We are working through religious channels, and we hope that those channels will have an effect," he said.

Schroeder made an appeal on behalf of German hostage Susanne Osthoff and her Iraqi driver, who were seized last week.

"Susanne Osthoff has been selflessly and sacrificially engaged (in Iraq) out of love for the people of your country," the former chancellor said in a statement televised by Al-Jazeera.

"Through her actions, Susanne Osthoff has shown respect and sympathy for your country. Recognize this and show equal humanity and respect for her life ¡ª set Susanne and her driver free," Schroeder said.

The seventh Western hostage seized recently was Bernard Planche, a French engineer. A spokesman for the French government said officials were working to free him.