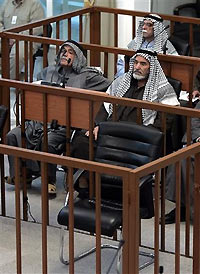 The chair of former Iraqi President Saddam Hussein remains empty during his trial in Baghdad, December 7, 2005. [Reuters]
After telling the court to "go to hell" the night before, the former president effectively boycotted the fifth session of his trial after spending most of the day in talks with lawyers in a battle of wills with the Kurdish presiding judge.
Judge Rizgar Mohammed Amin eventually opted to push ahead with proceedings and heard testimony from two witnesses before adjourning until December 21 -- six days after next week's election for the first full parliament of the post-Saddam era.
Amin said he would use the two-week break to consider a defense motion to review the way evidence was given.
One of Saddam's defense lawyers said Saddam would attend when the court reconvenes after the election, although it was not clear whether the former leader had told him that.
As the witnesses gave their testimony, Saddam's black leather chair stood conspicuously empty at the front of the defendant's penned-in dock in the marbled Baghdad courtroom.
The witnesses, speaking from behind a curtain for fear of their lives, described years of interrogations and abuses they say they suffered in Saddam's jails in the 1980s.
"They told us they wanted to speak to us for 10 minutes," a man identified only as Witness G said, recalling how security forces rounded up people in the Shi'ite town of Dujail in 1982 following a failed attempt to assassinate Saddam.
"We were gone for four and a half years."