China, US continue strategic, broader dialogue
By Cao Desheng (China Daily/Reuters)
Updated: 2005-12-08 05:44
China and the United States started the second round of high-level strategic dialogue in Washington yesterday, in an effort to maintain the momentum of improved bilateral relations.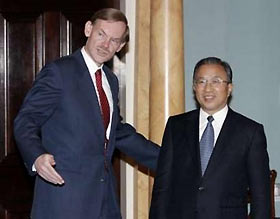 US Deputy Secretary of State Robert Zoellick (L) gestures alongside China's Vice Foreign Minister Dai Bingguo before their session of the U.S.-China Senior Dialogue at the State Department in Washington December 7, 2005. [Reuters]

The two-day talks, co-chaired by Chinese Vice-Foreign Minister Dai Bingguo and US Deputy Secretary of State Robert Zoellick, were held four months after the first round in Beijing.

The topics during the closed-door meeting would be "broader" in scope compared with previous talks, insiders said.

Yin Chengde, a researcher with the China Institute of International Studies on Sino-US relations, said the ongoing dialogue is expected to focus on issues of "strategic, overall and long-standing importance" to the two countries, such as trade, security and energy.

"It is also expected to pave the way for President Hu Jintao's visit to the US early next year," Yin told China Daily.

Yin said Sino-US relations have gained a sound momentum this year thanks to frequent high-level visits and expanding communication channels.

"The Bush administration is adjusting its policies towards China, from a 'strategic competitor' to a 'stake holder'," Yin said.

The Taiwan question, although still very important to Sino-US relations, is gradually dwindling in its significance in bilateral ties, said Yin.

"The dialogues will help strengthen understanding and mutual trust," he said.

But Yin said the structural contradictions in China-US relations would not change if the US adopts a policy of both "co-operation" and "containment."

The first dialogue came as a result of the consensus reached by President Hu Jintao and his US counterpart George W. Bush during the Asia-Pacific Economic Co-operation forum in Chile last year.

The dialogue is regarded as a new peak in Sino-US relations, following recent frequent high-level visits and exchanges.

Bush visited Beijing on November 19 and met with Hu and Premier Wen Jiabao for in-depth exchange of views on Sino-US relations.

State Department deputy spokesman Adam Ereli said the two-day meeting in Washington would cover bilateral issues as well as international.

"They will be looking at a number of issues -- bilateral, security-related, economic related -- in a strategic context, with the aim of exploring the responsibility that both countries share to make the international system more secure and more prosperous over the long term," he said.

"They will also look to the long term, over the horizon, to the future of U.S. and Chinese relations and what we hope that the relationship will look like," Ereli added.