Margaret Thatcher admitted to hospital
(AP)
Updated: 2005-12-08 06:33
LONDON - Former British Prime Minister Margaret Thatcher was admitted to hospital on Wednesday after feeling faint.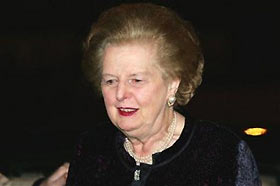 Former British prime minister Margaret Thatcher arrives at the Guildhall Art Gallery in London for a reception to mark the publication of the book 'Margaret Thatcher, A Tribute in Words and Pictures' by Iain Dale, Thursday, Nov. 24, 2005. [AP]

Thatcher, who governed Britain from 1979 to 1990, turned 80 in October and has grown frail in recent years following a series of small strokes. The Conservative Party said she would be kept in Chelsea and Westminster Hospital in London overnight as a precaution and doctors were confident she would be well enough to leave Thursday morning.

Hospital spokesman Mark Purcell said Thatcher had been brought to the emergency room about 5 p.m.

"She has had a number of tests and she will remain in hospital overnight as a precaution. She will be assessed by doctors in the morning," he said. "Her condition is stable and comfortable and she is now resting."

Thatcher has become more reclusive in recent years and given up most public speaking on her doctors' advice, but she remains a powerful force 15 years after leaving office as Britain's first female prime minister.

With her forceful personality, Thatcher dominated British politics throughout the 1980s. Her free-market philosophy, push to privatize state industries and hard-nosed battles with labor unions redrew Britain's economic landscape.

Her hard-driving style earned her the nickname "Iron Lady," a term reinforced to some in 1982 when she led Britain into war against Argentina after it invaded the Falkland Islands, forcing it to retreat.

Even Prime Minister Tony Blair, whose Labour Party languished in opposition while Thatcher held power for more than a decade, has adopted many of her views.

She celebrated her 80th birthday at a star-studded party in October attended by Queen Elizabeth II, and her husband, Prince Philip.