US airline passenger who made threat killed
(AP)
Updated: 2005-12-08 06:33
MIAMI - A passenger who claimed to have a bomb in a carry-on bag was shot and killed by a federal air marshal Wednesday on a jetway to an American Airlines plane that had arrived from Colombia, officials said. No bomb was found in the bag, a U.S. official said.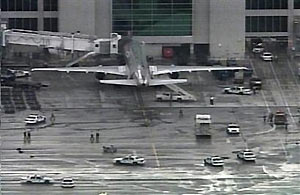 American Airlines Flight 924, a Boeing 757, pictured in this image taken from video, sits at Gate 42 at Miami International Airport, December 7, 2005. [AP]

Homeland Security Department spokesman Brian Doyle said the dead man was a 44-year-old U.S. citizen. It was the first time since the Sept. 11 attacks that an air marshal had shot at anyone, he said.

According to a witness, the man frantically ran down the aisle of the Boeing 757 while his wife tried to explain that he was mentally ill and had not taken his medication.

The passenger indicated there was a bomb in his bag and was confronted by air marshals but ran off the aircraft, Doyle said. The marshals went after him and ordered him to get on the ground, but he did not comply and was shot when he apparently reached into the bag, Doyle said.

The shooting occurred shortly after 2 p.m. as the plane was about to take off for Orlando after about two hours on the ground in Miami. "I don't know yet if the passenger had been on the plane and was getting off, or was starting to board the aircraft," airline spokesman Tim Wagner said.

After the shooting, investigators spread passengers' bags on the tarmac and let dogs sniff them for explosives.

A U.S. official, who spoke on condition of anonymity because of the information's sensitivity, said authorities examined the bag and found no explosives.