Coal mine blast leaves 96 missing
(AP/China Daily/Xinhua)
Updated: 2005-12-07 20:43
An explosion tore through a coal mine in northern China on Wednesday, leaving at least 96 workers missing, the Xinhua news agency reported.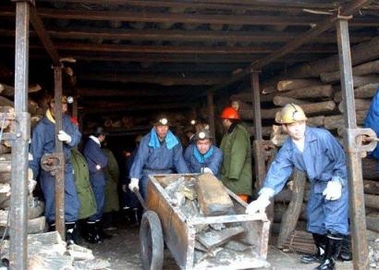 In this photo released by the Xinhua news agency, rescue workers clean up gravel at a disused coal mine near the Sigou Coal Mine in Xin'an County, central China's Henan province, on Tuesday December 6, 2005. Xinhua said a total of 42 miners trapped in the flooded Sigou Coal Mine remained missing for over 90 hours till Tuesday. Rescuers tried to open new channels to save them by pumping water out and digging a well leading to the flooded mine, in the disused coal mine, it added. [AP]
The latest explosion occurred Wednesday afternoon in a mine in Tangshan, a city in Hebei province, when 123 miners were underground, Xinhua said.
It was the third incident in two weeks involving scores of miners in a massive blast.
The agency had earlier reported that 123 miners were missing, but reduced the number to 96 without explaining. Another 27 escaped, Xinhua said.
Telephones at the mine were not answered late Wednesday night.
The government has shut down thousands of unsafe mines and punished mine owners who put profits ahead of lives.
On Tuesday, the rescuers recovered the body of the last miner missing in a Nov. 27 explosion in northeastern China, bringing the final death toll in that mishap to 171.
The blast at the Dongfeng Coal Mine in Heilongjiang province was sparked when airborne coal dust caught fire, according to media reports.
The accident prompted Premier Wen Jiabao to declare over the weekend that the industry was "chaotic and without safety enforcement in place," according to Li Yizhong, the director of China's State Administration of Work Safety.
Also Wednesday, rescuers at the Sigou Coal Mine in central Henan province were trying to save 42 miners trapped underground after the shaft flooded, Xinhua said.
Divers have been dispatched for the search, and rescuers have also fed a microphone into the mine to listen for signs of life, Xinhua said.
So far, there has been no indication that the workers survived.
A total of 76 miners were working underground at the time, and 34 escaped.
At least 2,700 miners have died in blasts, flooding collapses and other accidents in the first half of 2005.