Fudan seeks help for cat abuser
(Shanghai Daily)
Updated: 2005-12-07 15:53
Teachers at Fudan University are seeking psychological treatment for a postgraduate student who is accused of adopting and maltreating more than 30 stray cats over the past six months.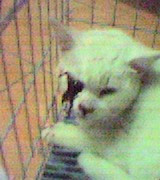 The maltreated white kitten bleeding from its right eye.
Several animal protection clubs and organizations in the city are also sending letters to foreign universities and consulates, telling them not to admit or issue a visa to Zhang Liangliang, the suspected cat killer, as he is planning to study overseas.
"We don't want to ruin this student," said a Fudan spokesman who refuse to identify himself. "The accusation was proved to be basically true, but what we want is to help him deal with his psychological problems and huge social pressure to start a new life."
Animal protection organizations said that Zhang, a third-year postgraduate student in Fudan's math department, adopted more than 30 stray cats from an animal protection club that advertises on the campus chat room.
Students gradually noticed that lots of cats were adopted by the same person. People who visited Zhang's dorm said he never had more than two cats living in his room at one time.
"We were quite suspicious about what happened to the cats he adopted, and requested to have a look at the little animals," said Wang Binbin, Webmaster of the online animal protection club.
On September 29, four students went to Zhang's dorm, but there weren't any cats in his room. Zhang said he gave some of the cats away and released the others, as his father didn't want him to raise animals.
Prompted by angry schoolmates, Zhang also issued a statement online in October, promising that he wouldn't adopt any more cats as he was too busy preparing applications to foreign universities.
About a month later, however, a Fudan student saw Zhang hurrying back to his dorm, with a caged cat crying loudly in his hand. The student and his friends rushed to Zhang's dorm to see what was going on. They found a white kitten in his living room bleeding from its right eye.
"I confess that I used to let out my frustrations by beating cats and deserting them afterwards," Zhang wrote in an online statement. He said the bleeding cat was injured by mistake, not deliberately.
Zhang was not available for comment yesterday. Classmates say he has moved back in with his family.