China vows to punish any coverup of spill
(AP)
Updated: 2005-12-07 11:04
JIAMUSI, China - The United States said Tuesday that it was sending experts to help China cope with a river-borne toxic spill that is approaching Russia's Far East, while Beijing promised to work closely with Moscow to limit the damage.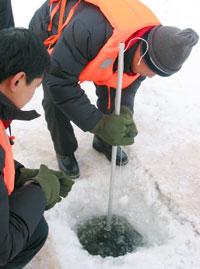 Environmental protection workers take water samples out of an ice hole from the Songhua River in Jiamusi, northeast China's Heilongjiang Province December 6, 2005. The slick of pollution is approaching the city. [newsphoto]

The Chinese government, meanwhile, promised to severely punish anyone who lied about or tried to cover up the disaster ¡ª Beijing's first acknowledgment that it had a problem with officials trying to hide the extent and impact of the massive spill.

The U.S. ambassador to China said China had accepted the offer of an Environmental Protection Agency assessment team that would suggest ways to remedy effects of the 90-mile chemical slick.

Addressing business leaders in Hong Kong, Ambassador Clark T. Randt expressed concern that Beijing failed to react quickly enough to the benzene spill, which has disrupted water supplies to millions of people.

"It seems it took a while to come to the attention of the central government and of course, that's a bit worrisome to us," he said.

A Chinese Foreign Ministry spokesman said Tuesday that Premier Wen Jiabao had written a letter this week to his Russian counterpart that "reaffirmed China's readiness to further cooperate with Russia to deal with the aftermath of the pollution."

Benzene ¡ª a potentially cancer-causing compound ¡ª and other chemicals have been moving along the frigid Songhua River, which joins the Amur River in Russia. It is expected to reach Khabarovsk, a Russian border city of 580,000 people, early next week.

The slick has been stretching and slowing as the Songhua freezes and is nearly double its previous, 50-mile length. Its concentration of toxic nitrobenzene was more than eight times the acceptable level, China's official Xinhua News Agency said.

The spill reached Jiamusi in northeast China early Tuesday. The city of 480,000 people rushed a new water plant into operation as supplies from near the river were cut back drastically to prevent contamination.

The Chinese government did not confirm that benzene had polluted the Songhua until November 23, 10 days after the spill and just before the chemical reached Harbin, a city of 3.8 million people.