Romania, Poland scrutinized over prisons
(AP)
Updated: 2005-12-07 08:54
Romania and Poland, stalwart allies in the U.S.-led global war on terror, came under increasing fire Tuesday amid widening reports that they hosted secret CIA prisons where top al-Qaida suspects were interrogated.
Top leaders in both countries denied it, but lawmakers in Romania called for a parliamentary investigation. The stakes are high: Although they have curried favor with the U.S., any proof of complicity could leave the nations isolated and scorned in a Europe demanding a full accounting from Washington, and threaten Romania's drive to join the European Union in 2007.
"We are open to any kind of investigation," said Romanian Prime Minister Calin Popescu Tariceanu, visiting EU headquarters in Brussels, Belgium. He said the country would throw open any suspect facilities to demonstrate "good intentions and good faith."
But Tariceanu added: "There is no proof, merely speculation."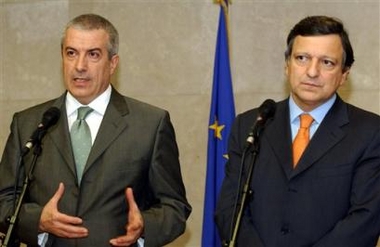 Romania's Prime Minister Calin Popescu Tariceanu, left, gestures while talking to the media during a joint press conference with European Union Commission President Jose Manuel Barroso, right, at the end of their meeting at the EU Commission headquarters in Brussels, Monday Dec. 5, 2005. [AP]

In Poland, authorities said CIA prisons would be illegal, though they were not planning an inquiry without evidence.

"For an investigation to start, there should be some sort of evidence, proof that this in fact took place in Poland," Julita Sobczyk, a spokeswoman for the prosecutor general, Zbigniew Ziobro, told The Associated Press. Ziobro is also Poland's justice minister.

The Council of Europe, the continent's top human rights watchdog, has launched an investigation. EU leaders say any member states found to have been involved could have their voting rights suspended ¡ª a warning that unnerves some Poles, whose country joined the bloc only last year.

President Aleksander Kwasniewski and other leaders repeatedly have denied allegations that Poland ever hosted so-called "black site" prisons.

"Neither now, nor in the past, were any inmates held in any military installations," Defense Ministry spokesman Piotr Paszkowski said Tuesday.

ABC News reported Monday night that two secret CIA prisons in eastern Europe were closed last month and 11 al-Qaida suspects were transferred to a facility in North Africa. The report, which ABC attributed to current and former CIA officers who spoke on condition of anonymity, said the prisons were shut down after Human Rights Watch said it had evidence suggesting such facilities existed in Romania and Poland.

Nabil Benabdellah, Morocco's minister of communications and a government spokesman, told the AP: "We have nothing to do with and we have no knowledge about this subject."

Officials in Algeria and Tunisia had no immediate comment.

Romanian President Traian Basescu ¡ª hosting a visit Tuesday by U.S. Secretary of State Condoleezza Rice ¡ª insisted there was "no such thing" as CIA prisons in the country and pledged to open all facilities to outside scrutiny.

Underscoring a friendship that has deepened, Rice hailed the country as "a strong friend with whom we share common values."

Suspicion fell on Romania's Mihail Kogalniceanu Air Base near the Black Sea and Poland's Szymany Airport, after Human Rights Watch said it had flight records indicating that aircraft with links to the CIA landed repeatedly at both facilities in 2001-2004.

The Romanian base, which was heavily used by U.S. forces after the Sept. 11, 2001, attacks for operations in Afghanistan and Iraq, was among several installations formally handed over to the U.S. in an agreement signed Tuesday by Rice and Foreign Minister Mihai Razvan Ungureanu.

Officials opened it to AP journalists last month, and the sprawling base appeared virtually deserted, with no obvious sign of a prison and no Americans present. Asked Tuesday whether there had ever been detainees on the site, base spokesman Lt. Comm. Adrian Vasile said: "Negative."

Romania's military and the Pentagon say U.S. forces, which at one point numbered about 3,500 at the base, were withdrawn in June 2003 and since have returned only briefly for training exercises, most recently in September.

Yet some officials acknowledged that parts of the installation were off-limits to Romanian authorities, and the country's main intelligence service, SRI, has said it had no jurisdiction there.

"There were some bases we put at the Americans' disposal. We can't know what happened there," former Prime Minister Adrian Nastase, who served 2001-2004 and now heads the Chamber of Deputies, conceded Tuesday. He added, however: "For us, it's clear there was no secret agreement" allowing covert U.S. activity.

"Unfortunately, the attacks from abroad against Romania and Poland have continued. Subsequently, we consider that parliament must get involved and provide its answer," said Senate Chairman Nicolae Vacaroiu, who together with Nastase called for a parliamentary probe.