China confirms new human case of bird flu
(AP)
Updated: 2005-12-07 08:40
A 10-year-old girl in southern China has tested positive for the deadly H5N1 virus, the government said Tuesday, making her the country's fourth human bird flu case.
The girl, a student surnamed Tang, lives in Ziyuan County in south China's Guangxi Zhuang Autonomous Region, bordering Vietnam, Xinhua News Agency said, citing the Health Ministry.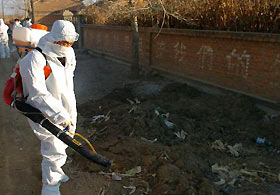 A man sanitizes a corner at a village in Inner Mongolia Autonomous Region on December 4, 2005. [newsphoto]

She has been sick with a fever and pneumonia since November 23 and has undergone emergency treatment.

Dead ducks were found in Dingdang, a town in Guangxi, in January 2004 ¡ª the mainland's first case of bird flu. The region borders Vietnam, the country hit hardest by the disease.

People who have had close contact with the girl have been under medical observation, Xinhua said. So far, none has shown any symptoms, it said.

Last month, two farmers in the eastern province in Anhui, both women, died of the disease after coming in contact with sick poultry.

A 9-year-old boy in central Hunan province also fell ill but recovered and has been discharged from the hospital.

The virulent H5N1 strain of bird flu has killed at least 69 people in Asia since 2003, mostly through contact with infected birds.

Experts have warned the virus could mutate and become more easily passed between people, sparking a global pandemic that could kill millions.

China has mounted an aggressive campaign to fight repeated bird flu epidemics in poultry, which increase the potential risk of human cases. It is in sharp contrast to the initial secrecy authorities used to handle an outbreak of severe acute respiratory syndrome ¡ª or SARS ¡ª which emerged in Guangdong province in 2002.

Authorities have reported 25 bird flu outbreaks in poultry around China since Oct. 19 and have killed and vaccinated tens of millions of chickens, ducks and geese as a precaution.

Xinhua said the Guangxi Health Department and the Health Ministry have sent experts to the region to "direct and coordinate disease prevention and control in the area."

The source of the virus is under investigation since no bird flu outbreaks have been reported in Ziyuan County, Xinhua said.

The World Health Organization said this week that China's public still needs to be educated about how to spot early signs of bird flu in poultry to prevent a spread of the disease among birds and people.

Three of China's four human cases have been found in areas where outbreaks of bird flu were not reported.

This shows "there's still an issue of public awareness of what to look for when chickens get sick," said Julie Hall, an expert in infectious diseases at the WHO office in Beijing.