Saddam defies judges as bombers kill 40
(Reuters)
Updated: 2005-12-07 06:52
BAGHDAD (Reuters) - Saddam Hussein told his judges to "Go to hell" and threatened to stay away from his own trial after hearing more chilling, if at times barely coherent, evidence from witnesses on Tuesday.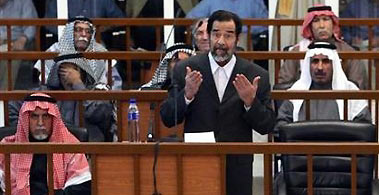 Former Iraqi president Saddam Hussein (C, front) addresses the court during a trial in Baghdad, December 6, 2005. [Reuters]


As the heavily fortified Baghdad court heard emotional testimony from witnesses hidden behind screens to protect their identities, two suicide bombers killed at least 36 officers and cadets at a policy academy across the city and violence linked to next week's parliamentary election killed four in Kurdistan.

A U.S. security consultant became the seventh Westerner to be kidnapped in 10 days. His captors said in a tape aired by Al Jazeera television that he would be killed in 48 hours unless Washington freed all the thousands of Iraqis held in prison.

President George W. Bush said the United States would pay no ransom but added: "We will bring these people to justice, we will hunt them down along with our Iraqi friends."

Al Qaeda claimed the attack on the police, accusing the force set up by the Shi'ite- and Kurdish-led government elected under U.S. occupation of persecuting the Sunni Arab minority that dominated Iraq under Saddam. It was the bloodiest attack in three weeks and came nine days before a December 15 election.

Saddam denounced his trial for crimes against humanity as an U.S.-inspired farce pandering to electoral agendas; pleading exhaustion and saying he lacked clean clothes after two full days of hearings following seven weeks of delay and adjournment, he seemed to say he may not appear at Wednesday's fifth session.

"I will not attend an unfair trial," he shouted as the judges left at the end of the day. "Go to hell!"

Court officials have said the trial can go ahead without some or all of the defendants -- as long as their lawyers are present -- and it was unclear if Saddam intended to stay away.