Iran plane crashes into building, 116 dead
(Reuters)
Updated: 2005-12-07 06:52
TEHRAN (Reuters) - A military plane carrying dozens of journalists crashed into a Tehran apartment block and exploded on Tuesday, killing at least 116 people, officials said.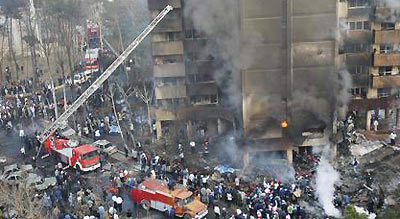 Smoke and flames rise from a building where a plane crashed in Tehran December 6, 2005. An Iranian military plane carrying at least 94 people crashed in flames into a Tehran apartment block on Tuesday, killing all those on board, police said. [sina]


All 94 passengers and crew on the C-130 transport plane died, the Interior Ministry said. Several children, at home because schools were closed due to a smog alert in the capital, were among the dead in the building, witnesses added.

The Tehran Coroner's Office told the ISNA students news agency it had received 116 corpses. Twenty-eight people, some in critical condition, were taken to hospital.

"I was sitting at home when the windows suddenly smashed and flames came pouring in," a woman in her fifties with cuts on her neck, told Reuters. "There was smoke everywhere."

Iran's fire brigade chief Ahmad Ziaie told state television the building which was hit, located in a densely populated area of south Tehran, housed about 150 people. The crash occurred in the early afternoon.

"Both the main and reserve fuel tanks were full which is why the plane went up in flames as soon as it hit," he said.

The Air Force plane was bound for the Gulf port of Bandar Abbas. It was taking 68 local journalists to cover military exercises. Military personnel were also aboard.

Minutes after take off the pilot reported engine trouble and requested an emergency landing at Tehran's Mehrabad airport, but crashed just short of the runway, police said.

Iranian journalists at the scene wept and consoled one another over their colleagues' deaths.