China confirms new human case of bird flu
(Xinhua/China Daily)
Updated: 2005-12-07 06:11
The Ministry of Health (MOH) on Tuesday night confirmed a new case of human infection of bird flu in Ziyuan County of south China's Guangxi Zhuang Autonomous Region.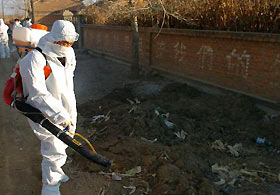 A man sanitizes a corner at a village in Inner Mongolia Autonomous Region on December 4, 2005. [newsphoto]

The patient is a 10-year-old girl student surnamed Tang, who has been ill with fever and pneumonia since November 23, said an MOH press release.

The girl has been tested positive with the H5N1 virus by the China Disease Prevention and Control Center, and she has been under emergency treatment in hospital.

Tang has been confirmed to be infected with bird flu in accordance with the standards of the World Health Organization (WHO) and the Chinese government.

People who have close contacts with the patient have been brought under medical observation by local health departments. So far, no abnormities have been found among these people.

The regional health department and MOH have sent expert teams to direct and coordinate disease prevention and control in the area. Currently, experts are making further investigation in the source of the bird flu virus, since no bird flu cases have been reported in the county before.

In addition, the ministry has reported the case to the WHO, the country's Hong Kong and Macao special administration regions and Taiwan, and some foreign nations, the press release said.

Previously, China reported three human cases of bird flu and one suspicious case.

Poverty relief drive needs international funds

Leading poverty reduction officials yesterday said China appreciates, and will continue to look for, foreign funds to help improve the lives of the country's poor.