Rice, Merkel discuss ex-prisoner's claim
(AP)
Updated: 2005-12-06 21:04
German Chancellor Angela Merkel said Tuesday that the United States has admitted making a mistake in the case of a German national who claimed he was wrongfully imprisoned by the CIA.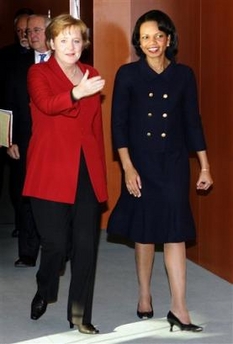 German Chancellor Angela Merkel, left, welcomes U.S. Secretary of State Condoleezza Rice during their meeting in Berlin on Tuesday, Dec. 6, 2005. Rice opened a four-nation European trip Tuesday, meeting with her German counterpart amid questions of whether the U.S. keeps terrorist suspects in secret prisons that violate European legal and human rights guarantees. [AP]
Merkel spoke during a press conference with Secretary of State Condoleezza Rice, who refused to discuss specifics with reporters. The two women leaders' first meeting was dominated by questions about U.S. terrorism policies, including the five-month detention of Lebanese-born Khaled al-Masri and reports of secret CIA prisons and potentially illegal use of European airports and airspace to transport terror suspects.
"The American administration is not denying" it erred in the case of al-Masri, Merkel said through a translator.
Merkel welcomed that admission and added that she is grateful for Rice's assurances that the United States conducts anti-terror operations legally and without the use of torture.
Al-Masri is expected to sue the CIA on Tuesday in Washington. He claims he was seized while on vacation in Europe last year and then brought to a U.S. prison in Afghanistan, where he was mistreated and interrogated for suspected ties to the al-Qaida terrorist group.
The German parliament will soon take up the matter, Merkel said, adding, "That is appropriate."
"We recognize the chancellor will be reviewing this" in parliament, Rice said. "We also recognize that any policy will sometimes result in error and when it happens we do everything we can to correct it."
The American diplomat also offered a broad defense of intelligence gathering in the pursuit of terrorists.
"This is essentially a war in which intelligence is absolutely key to success," Rice said. "If you are going to uncover plots, if you are going to get to people before they commit their crimes, that is largely an intelligence function."