Witness at Saddam trial tells of abuse
(AP)
Updated: 2005-12-06 21:04
A woman whose identity was kept secret and voice masked took the stand in the trial of Saddam Hussein on Tuesday, testifying through tears that Saddam's men beat her as a teenager and forced her to take her clothes off.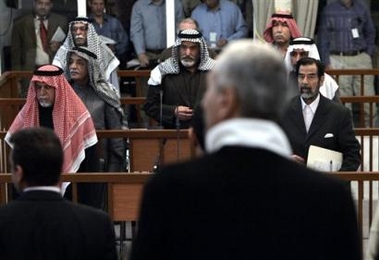 Seen through a row of Iraqi judges, former Iraqi President Saddam Hussein, front right, stands during the start of his trial along with Awad Hamed al-Bandar, front left, Taha Yassin Ramadan, 2nd row left, Abdullah Kazim Ruwayyid, 2nd row center, Mizhar Abdullah Ruwayyid, 2nd row right, Mohammed Azawi Ali, back row left, Ali Dayim Ali, back row center, and Barazan Ibrahim in Baghdad, Tuesday Dec. 6, 2005. Saddam and seven others face charges that they ordered the killing in 1982 of nearly 150 people in the mainly Shiite village of Dujail, north of Baghdad, after a failed attempt on the former dictators life. [AP]
Saddam sat stone-faced as the woman, identified only as "Witness A," told the court from behind a light blue curtain that she was taken into custody after the 1982 assassination attempt against the former Iraqi president in the town of Dujail.
The woman often cried during her testimony and repeatedly said she was forced to undress, implying that she had been raped but not saying so outright.
"I begged them, but they hit with their pistols," she said. "They made me put my legs up. There were five or more and they treated me like a banquet."
"Is that what happens to the virtuous woman that Saddam speaks about?" she wept, prompting the judge to advise her to stick to the facts.
The woman, who said she was 16 at the time of the Dujail incident, said Wadah al-Sheik, an Iraqi intelligence officer who died of cancer last month, ordered her to take off her clothes.
"He continued administering electric shocks and beating me," she said.