Former Iraqi PM al-Zubaydi dies at 67
(AP)
Updated: 2005-12-06 09:07
Former Iraqi Prime Minister Muhammad Hamza al-Zubaydi, one of the top Saddam Hussein-era leaders captured in Iraq, has died at a U.S. military hospital in Baghdad, the American military said Monday. He was 67.
Al-Zubaydi, a Shiite Muslim, died Friday after being transferred to U.S. 344th Corps Support Hospital when he began "complaining of chest pains," said Lt. Col. Guy Rudisill.
Rudisill said it appeared al-Zubaydi died of cardiac arrest, but an autopsy was expected before his body is transferred to his family.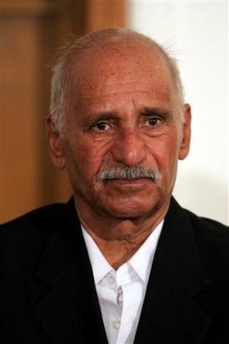 In this image cleared by the US military, Muhammed Hamza al-Zubaydi, retired Iraqi revolutionary command council member, appears in a courtroom at Camp Victory, a former Saddam palace on the outskirts of Baghdad, Thursday, July 1, 2004. [AP]

Al-Zubaydi was on the list of 55 most wanted members of Saddam's toppled regime and served as a Revolutionary Command Council member. He led Saddam's forces in the central third of Iraq during the initial stages of the 2003 U.S.-led invasion.

Iraqi forces captured him on April 20, 2003, in Hillah, about 60 miles south of Baghdad, without a shot being fired.

Al-Zubaydi was a leading member of Saddam's once-ruling Baath Party and expected to face the special tribunal currently hearing war crimes charges against the former Iraqi president and his other detained government members.

Al-Zubaydi led the suppression of a Shiite uprising in southern Iraq following Iraq's defeat in the 1991 U.S.-led Gulf War that freed Kuwait from a seven-month Iraqi occupation.

He also oversaw the destruction of Iraq's southern marshes from 1992-98, being videotaped telling army generals to "wipe out" Marsh Arab tribes.

He was also in charge of Iraqi forces in Kirkuk during the 1980-88 Iraq- Iran war. He was believed to have been instrumental in the suppression of Iraqi Kurds during that time, including the 1988 Anfal campaign, in which 182,000 Kurds were killed.