In today's India, status comes with four wheels
(nytimes.com)
Updated: 2005-12-05 12:02
VISHAKHAPATNAM, India - On the dark highway, the car showroom glowed in the night like an American drive-in. Inside, it looked more like a game-show set: bright lights, white floors, huge windows, high ceilings and ad posters of beaming consumers far paler than most Indians. For 36-year-old Ram Reddy, the price was right enough to make a down payment on his fifth family car.
He and his brother already had one car "for the children," two "for the ladies," and so on. Now they were buying the Toyota Innova, a big-as-a-boat luxury van that retails for a minimum of $23,000, 46 times India's per capita income of about $500.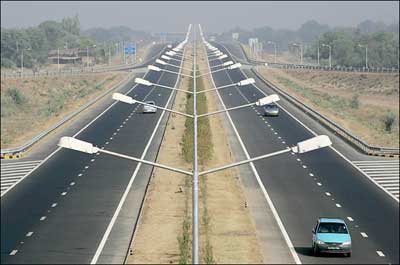 The new national highway in Rajasthan State, India. The revamped highways are feeding a new appetitie for fast cars. [nytimes.com]

The Innova is a new plaything of the moneyed here, one being peddled, like so many products in India today, by a Bollywood star. It is yet another symbol of the kid-in-a-candy-store psyche that has seized India's growing consuming class, once denied capitalism's choices and now flooded with them.

Fifteen years after India began its transition from a state-run to a free-market economy, a new culture of money - making it, and even more, spending it - is afoot.

This domestic hunger for goods has become an important engine for an economy that still lags in exports. So intense is the advertising onslaught, so giddy the media coverage of the new affluence, that it is almost easy to forget that India remains home to the world's largest number of poor people, according to the World Bank.

Still, India's middle class has grown to an estimated 250 million in the past decade, and the number of super-rich has grown sharply as well.

And, after more decades of socialist deprivation, when consumer goods were so limited that refrigerators were given pride of place in living rooms, they have ever more wares to spend it on: cellphones, air-conditioners and washing machines; Botox, sushi and Louis Vuitton bags; and, perhaps the biggest status symbol of all, cars.

India has become one of the world's fastest-growing car markets, with about a million being sold each year. It once had only two kinds, Fiats and Ambassadors. Now dozens of models ride the roads, from the humble, Indian-made Maruti to the Rolls-Royce, which has re-entered India's market some 50 years after leaving in the British wake.

Indians are discovering in cars everything Americans did: control and freedom, privacy and privilege, speed and status. Car showrooms, the bigger the better, are the new temples here, and cars the icons of a new individualism taking root. Foreign car companies, meanwhile, have discovered the Indian consumer - not to mention the country's engineering brain power - and are setting up plants across India.

The growing lust for cars also reflects India finally having roads decent enough to drive them on. It is making a historic effort to upgrade its dismal, mostly two-lane national highway system into four- or six-lane interstates, its largest infrastructure project since independence in 1947.

A New York Times reporter and a photographer drove one portion of the project, the so-called Golden Quadrilateral, which passes through New Delhi, Calcutta, Madras, officially known as Chennai, and Mumbai, formerly Bombay, earlier this year.

The revamped highways mean that, for the first time in India, cars can go fast; thus the new appetite for fast cars. The middle and upper classes, already being lured by one of the world's fastest-growing domestic airline industries, are discovering driving for pleasure as much as need.

"This is the American 1950's happening in India now," said Padma Chandrasekaran, a Madras resident marveling at the new ease of driving the 205 miles to Bangalore.

The new highways have seduced well-off consumers like Mr. Reddy, who plans to use the Innova for family road trips to places like the temple at Tirupati, about 400 miles south of here, a trip he would previously have made by train. The highway's smoother surfaces and additional lanes have also enriched him, by reducing fuel and maintenance costs for his trucking company.

"If the roads were not good, we would not have this many cars," said the bearded Mr. Reddy, whose 9-year-old son already knows how to steer an automobile.