Chavez allies say victorious in Congress vote
(Reuters)
Updated: 2005-12-05 11:07
Venezuelan President Hugo Chavez's political party said on Sunday it had won 114 out of 167 seats in the Congress after opposition parties dropped out of elections protesting bias by electoral authorities.
MVR party chief Willian Lara said its preliminary figures showed the alliance of pro-Chavez lawmakers had won all the seats in parliament, handing the left-wing leader uncontested control over the legislature.
"MVR managed to get 114 deputies elected and according to the figures we have, all 167 members of the National Assembly are supporters of the project written into the Bolivarian constitution," Lara said in a reference to Chavez allies.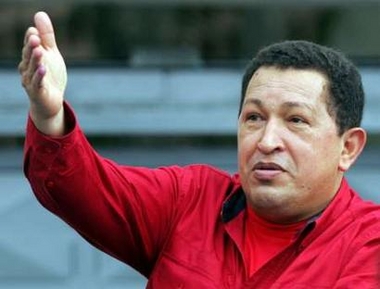 Venezuelan President Hugo Chavez greets supporters after casting his ballot during legislative elections in Caracas, December 4, 2005. [Reuters]

The National Electoral Council has still to provide final results. But with just 114 MVR seats in the Congress, the pro-Chavez alliance would have more than two thirds it needs to press for what they call necessary reforms, such as allowing unlimited re-election to the presidency, which opponents fear will give even greater authority to the former army officer.

Most opposition groups abstained from voting on Sunday after accusing electoral authorities of favoring the populist leader and manipulating electronic voting machines, despite agreeing previously to participate in the election.

Chavez, a frequent critic of Washington, has accused U.S. officials of orchestrating the boycott to trigger a political crisis. But he said the move included only a minority of candidates and could not invalidate the vote.

"These old parties, they are already dead -- but they are still hanging on, resisting death," Chavez told reporters after casting his vote in Caracas. "Now they've accelerated their own demise."

National Assembly deputies backing Chavez held 86 seats against 79 in the opposition camp. Two new seats were up for grabs this year.

Lawmakers backing Chavez have said they want to pass constitutional changes such as lifting the limit of two terms on presidential tenure. Chavez foes fear this will hand more power to a man they already accuse of eroding democracy by controlling the courts and other institutions.