Airbus mulls plane assembly in China
(Reuters/AFP)
Updated: 2005-12-05 06:28
TOULOUSE, France - Airbus agreed with Premier Wen Jiabao on Sunday to study the possibility of setting up an assembly line in China -- a move that could see its jets being built outside Europe for the first time.

Wen signed an agreement to carry out a feasibility study for the project at the start a European trip expected to unlock provisional Chinese orders for 70 A320-family single-aisle Airbus aircraft worth $5 billion (40 billion yuan).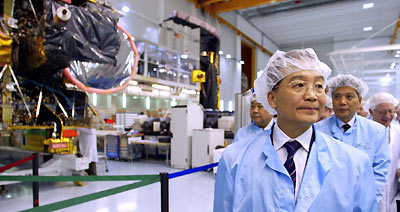 Premier Wen Jiabao wears protective clothing as he visits satellite maker EADS Astrium in Toulouse, southwestern France December 4, 2005. [Reuters]


Under the plan, signed during a tour of the European aircraft-maker's giant assembly plant in Toulouse, southwestern France, Airbus and Chinese authorities will review over six months whether to set up a second A320 assembly line in China.

Airbus planes are assembled in Toulouse or Hamburg, Germany.

Airbus said it had committed to boost fourfold the value of components it buys in China to $120 million by 2010. It has already promised China a 5 percent share of the work to build the fuselage of its latest model, the mid-sized A350.

Fanning French hopes for a cluster of aerospace deals this week, Wen began the three-day French leg of his visit by flying directly to Toulouse, the home of the country's high-tech aerospace and space industries.

"It's the market where you have to be," Airbus China chief Laurence Barron told Reuters as Wen inspected the first A380 superjumbo due to be delivered to Singapore Airlines in 2006.

"One in six planes sold this year will go to China. Next year that will be one in five. We have 30 percent of their fleet now and hope that will rise to 50 percent in coming years."