China sacks environmental minister after toxic spill
(AFP/China Daily)
Updated: 2005-12-03 10:36
China's environmental minister resigned under pressure after his ministry angrily berated officials in the northeastern province of Jilin for covering up a toxic spill.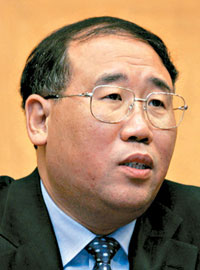 Xie Zhenhua, taking blame for the river pollution, has resigned.

Xie Zhenhua, head of the ministry-level State Environmental Protection Administration (SEPA), quit his post and was replaced by Zhou Shengxian, former director of the State Forestry Administration.

A circular issued by the general offices of the Communist Party of China Central Committee and the State Council said Xie's resignation was directly linked to a November 13 benzene spill into the Songhua river that resulted in an 100 kilometer (60 mile) long toxic slick now floating downstream toward Russia.

"After this major water pollution incident occurred, (it was determined that) SEPA has failed to pay sufficient attention to the incident and underestimated its possible serious impact," the circular from the cabinet said.

"It should bear due responsibility for the losses caused by this incident."

The spill, which came after a massive explosion at a PetroChina chemical plant in Jilin city, resulted in a five-day cut of water supplies to the 3.8 million residents of Harbin, the capital of Heilongjiang Province.

Earlier SEPA vice head Wang Yuqing angrily blamed officials in Jilin for failing to quickly report the spill, while lamenting that the blind pursuit of economic growth in China had led to 25 years of worsening environmental degradation.

"When a big pollution incident happens, the local environmental protection departments must promptly report the pollution situation to the agency," Wang said on the agency's website.

"We will not allow the cover-up of the truth. You cannot delay the report and delay prompt counter-measures."

The joint circular ordered relevant departments to step up investigations into the cause of the explosion and pollution incidents, and pledged to "seriously punish those responsible."

Jiang Chengsong, a member of the Environmental and Resources Protection Committee of the National People's Congress, China's top legislature, said the quick replacement of the environmental chief after the Songhua River pollution incident also shows the improvement of China's political system.

"It indicates that the country's accountability system for officials has become more mature," he said.