Asian countries observe World AIDS Day
(AP)
Updated: 2005-12-01 21:57
Dozens of HIV-infected women stepped out of the shadows in eastern India to acknowledge they have the disease and say they should not be shunned. China, in its marking of World Aids Day, began an educational campaign targeting millions of migrant workers Thursday.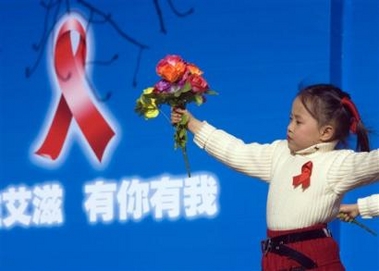 A Chinese child performs near the words 'Concern about AIDS, involves everyone' during a ceremony to mark World AIDS day in Beijing, China, Thursday, Dec 1, 2005. China must keep its number of HIV-infected people under 1.5 million in the next five years or risk social instability and a possible economic downturn, the country's top health official said Wednesday. [AP]
In Jakarta, the head of UNAIDS criticized Indonesia's leaders for not taking a more active role in combatting the disease, and thousands marched in anti- AIDS rallies in India's plagued northeast, including in Golaghat, a town in the eastern state of Assam, where HIV-infected women spoke publicly.
"I marched through the town with more than 70 HIV-positive women like me ... I'm happy many women have paid heed to our call and have openly admitted to their HIV-positive status," said Jahnabi Goswami, 28. "Men with the disease need to follow suit."
An estimated 5.1 million people are living with HIV in India ¡ª the most in any single country except South Africa. India's sparsely populated northeast, where heroin traffickers cross from Myanmar, is considered a flashpoint because of its high rate of infections among intravenous drug users.
In New Delhi, Prime Minister Manmohan Singh said Indians must overcome traditional taboos attached to sex and discuss AIDS more openly within families and in public.
Australia on Thursday announced it will spend $7.4 million over five years to help India fight the virus in the northeast region.
China also focused attention on the disease by launching a campaign aimed at some 120 million migrant workers, with Chinese Central Television showing condoms being passed out to workers at a Beijing construction site.
"Because of this publicity, I really feel I learned something about the harm of AIDS and I will share what I learned with my co-workers, friends and relatives," said Li Hongjian, a young worker in a hard hat and work clothes with a large red ribbon pinned to his chest.
China's government estimates about 840,000 people could be infected with HIV and 80,000 others are likely to be living with full-blown AIDS. However, only about 167,000 are registered as being infected.
UNAIDS has warned up to 10 million could be infected in China by 2010 without more aggressive prevention.
The China Daily newspaper said injecting drug users now account for the bulk of infections, followed by unclean blood selling practices and unsafe sex.