China cars no threat to Japan: report
(AFP)
Updated: 2005-12-01 07:47
China's fledgling automotive industry harbors enormous potential but may not mount a full-fledged, export-oriented challenge to automotive giants from Japan, the United States and Western Europe for at least another decade, a study said.
"There is a lot of uncertainty in the Chinese market," said Bruce Bezlowski, a University of Michigan researcher and one of the principal authors of the report.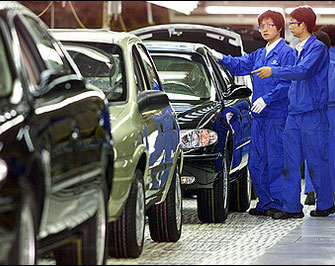 Workers walk past cars along a production line at the General Motors factory in Shanghai. [AFP]
"At the same time, there's a real sense of euphoria and excitement when you talk to people about what the future will bring."
The study found that only about three percent of China's automotive output is export oriented. China's production capacity is expected to grow rapidly and could surpass Germany as soon as 2008 but it won't catch Japan's 10 million units of productive capacity until some time in the next decade.
The study was conducted by the University of Michigan's Office for the Study of Automotive Transportation and the IBM Institute for Business Value. It was based on in-depth interviews with 20 managers and researchers embedded in the Chinese auto industry.
China, the study said, has huge growth potential for auto sales as well.
Just 24 of every 1,000 people own a car, compared to 120 globally and 750 in the United States. The report predicted China's auto market could be larger than the US market by 2015. Around five million vehicles were sold in China last year, compared to 17 million in the United States.
"Most of the interviewees expect it will take two decades for Chinese manufacturers and suppliers to close the product and process gaps with the world class counterparts," the study said.
Bezlowski said the Chinese auto industry is still grappling with some basic questions about how to sell and service vehicles. Consequently, sales of new vehicles in China are expected to grow steadily but not exponentially, he said.
Other hurdles include adapting to the demands of a market economy and the increasing cost of petroleum.
Parking also is a major issue in big cities such as Shanghai where most of the spaces are on the street, which only adds to congestion.
The Chinese government, while rapidly building roads, also has yet to come up with a strategy for taxing fuel and controlling air pollution, the report said.
In addition, the availability of vehicle financing is underdeveloped and most customers pay cash for new vehicles, Bezlowski said.