Virus outbreaks may change poultry raising
(China Daily/AFP)
Updated: 2005-12-01 06:02
Farmers have been hit hard by the impact of bird flu, but the outbreaks may ultimately push the country to improve its poultry-rearing practices, agricultural officials and experts said yesterday.
"Bird flu has adversely affected the poultry-raising sector, but in the long haul, it will also prompt a transformation of the (backward) rearing methods, forcing the industry to develop along a healthy and sustainable track," said Wang Jimin, a researcher with the Chinese Academy of Agricultural Sciences.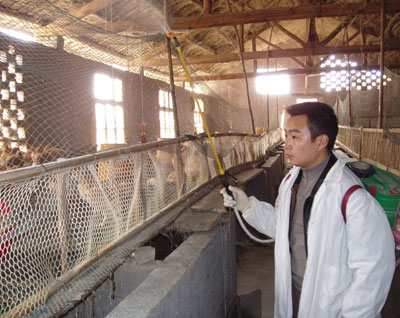 A health worker sprays disinfectant at a poultry farm in Southwest China's Chongqing Municipality, November 27, 2005. [newsphoto]
Wang said at least 40 per cent of China's poultry is raised in scattered, small courtyard farms in substandard conditions, making them vulnerable to possible contagious diseases.
The bird flu infection will make farmers more aware of the risks in the sector, he said.
Following the epidemic, the Ministry of Agriculture has started to advocate the development of intensive farming and worked to optimize its stock raising method, said Zhang Zhongqiu, vice-director of the ministry's Animal Husbandry Department.
Wang and Zhang made the remarks at an online question-and-answer session yesterday in Beijing.
They said the well-established habit of humans living in close contact with fowls and livestock should be changed to avert possible cross-contagions.
No human-to-human infection has been found to date, Minister of Health Gao Qiang told a press conference in Beijing.
Three human infection cases were reported in Central China's Hunan Province and East China's Anhui Province.
Scientists are working hard in China to monitor changes of the H5N1 virus, he said.
An expert group from the World Health Organization (WHO) is expected to finish its field investigation and laboratory tests on the two human cases in Anhui today.
Meanwhile, Gao rejected rumours that China has many more human cases of bird flu than officially reported.
One website said that a 35-year-old person died of bird flu in China-Japan Friendship Hospital in Beijing on November 27.
In fact, from November 24 to 27, a total of six people died in the hospital, and none was aged 35, Gao said.