China to unveil 5-year AIDS control plan
(Reuters/chinadaily.com.cn)
Updated: 2005-11-30 13:31
Chinese health minister warned on Wednesday that the spread of AIDS could affect the nation's economic development and its "rise or decline", and stressed the need for strong prevention measures.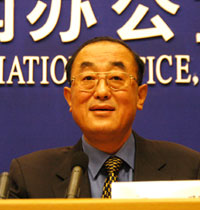 Health Minister Gao Qiang said Wednesday that China will try to limit the number of HIV positive and AIDS patients below 1.5 million by 2010. [Xinhua]

Minister Gao Qiang said China aimed to keep the number of people infected by the HIV virus to below 1.5 million by 2010.

"AIDS prevention work is an issue relating to the quality of the population, economic development, social stability and the rise or decline of the country," Gao told a news conference hosted by the State Council Information Office.

The ministry had drafted a five-year AIDS prevention action plan which was now awaiting cabinet approval, he said.

China's prevention measures included increased public education, "striking hard" against illegal blood sales, and increasing official accountability, as well as cooperating with the World Health Organisation and other United Nations agencies.

A national survey, conducted in collaboration with the World Health Organization and USAIDS this year found that about 70,000 people have developed AIDS through blood transfusion or blood sales.

Gao said this figure is much smaller than previously estimated in 2003 by the United Nations agencies.

The 1.5 million figure is lower than projections by some international agencies. The WHO estimates that 10 million Chinese may be infected with the virus that causes AIDS by 2010 if nothing is done to prevent transmission.

China is carrying out an assessment of the country's AIDS epidemic situation together with experts from the World Health Organization and the United Nations, Gao said.

"The assessment will reflect China's AIDS situation in a more objective and accurate way," he said. "We'll publicize the results in time."