China rules out meeting with Koizumi
(Xinhua/AFP/AP)
Updated: 2005-11-30 13:14
An official from China's Foreign Ministry said in Beijing Wednesday that it is "impossible" for Chinese and Japanese leaders to hold bilateral meeting in the December summits in Kuala Lumpur due to current chilled relations between the two Asian neighbors.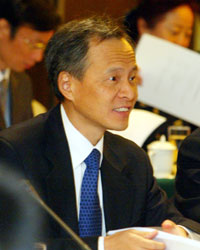 Cui Tiankai, director of the Foreign Ministry's Asian Department, said Wednesday, November 30 in Beijiing that any bilateral meeting between Chinese and Japanese leaders at the ASEAN meeting in December will be something out of the question, given the current chilly relations. This file photo was taken on October 20, 2004. [newsphoto]

Cui Tiankai, director of the ministry's Asian Department, said the relations between China and Japan are in difficulties because the Japanese leader stubbornly persists in paying pilgrimage to the Yasukuni Shrine, which honors the convicted class-A World War II criminals along with others died in war.

Japanese Prime Minister Junichiro Koizumi visited the shrine in October, the fifth since he took office in April 2001, which angers China and the Republic of Korea (ROK).

The shrine visit "has severely damaged the feelings of the Chinese and other Asian peoples," said Cui at a news briefing on Chinese Premier Wen Jiabao's upcoming visit to Malaysia to attend the ninth Summit between China and the Association of Southeast Asian Nations (ASEAN), the ninth ASEAN plus China, Japan and the ROK Summit and the First East Asian Summit.

"Under such circumstances, the Japanese side wishes everything proceeds normally as if nothing has happened. That is impossible," said Cui.

Cui said the trilateral meeting among China, Japan and ROK could be decided through consultations of the three parties, but the bilateral meeting between Chinese and Japanese leaders is "impossible."

"The Japanese side should bear full responsibility for the difficulties China and Japan are facing in their relations," he added.