Stronger RMB level in line with forex rules
By Zhang Dingmin (China Daily)
Updated: 2005-11-30 05:58
China's foreign exchange regulator clarified yesterday that local banks were not breaching exchange rate rules when they quoted the renminbi at an unprecedentedly strong 7.9997 against the US dollar last week.
"This was in line with the existing exchange rate regulations and was normal market behaviour by the banks," the State Administration of Foreign Exchange (SAFE) said in a statement.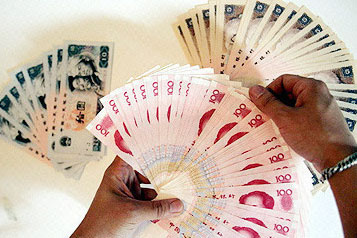 A man lays out various denominations of the Chinese yuan, in Beijing. [AFP]
Bank of China, the country's largest foreign exchange bank, and some other banks quoted a 7.9997 yuan buying price for the dollar in cash last Friday, the first time the currency had passed a psychologically sensitive line of 8 to 1.
That marked the strongest performance of the Chinese currency since a landmark reform on July 21, when China allowed the renminbi to appreciate by 2.1 per cent against the US dollar to 8.11 and started linking it to a basket of foreign currencies instead of the greenback only.
But as major trading partners led by the US, which complains that the renminbi is undervalued to give Chinese exports an unfair advantage, continued to press for further appreciation, expectations for a stronger yuan remain in the marketplace, analysts said.
"That's simply because people think the appreciation was not big enough and fell short of market expectations," said Li Ruoyu, an analyst with the State Information Centre, adding that observers had been widely expecting a 5-10 per cent appreciation.
But the prices banks are quoting are not equivalent to the overall level of the renminbi exchange rate, which is represented by the central parity SAFE announces every day based on the closing price of the interbank forex market on the previous day, the administration said.
Under the current exchange rate regime, authorized banks are allowed after considering market conditions, their own forex positions and the credibility of clients to quote buying and selling prices for the US dollar within a range equivalent to 4 per cent of the central parity.
The difference between US dollar buying and selling prices offered by the banks last Friday was 1.18 per cent from the central parity that day.
At a briefing yesterday, Foreign Ministry spokesman Liu Jianchao reiterated China's position on its reform of the exchange rate, saying the country has never manipulated the renminbi.
(China Daily 11/30/2005 page1)