Abuse of Chinese women sparks uproar
(China Daily/AFP)
Updated: 2005-11-28 05:36
One young Chinese woman was shown being strip-searched and ill-treated in a Malaysian police station.
Another young Chinese woman claims four Malaysians sexually assaulted her.
These are the latest in a spate of cases where women from China are reportedly being targeted by the country's police and immigration authorities on suspicion of being involved in prostitution.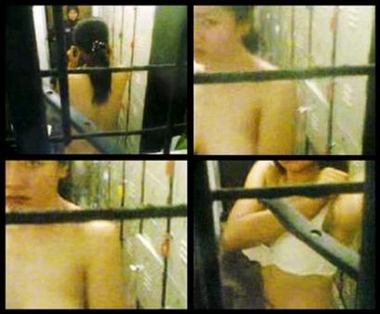 A combination of video grabs from a mobile phone video clip shows a young Chinese woman after she was stripped at a police station in Malaysia. [Reuters]
Malaysia last week launched an investigation into the alleged abuse of the woman in police detention after videoclips of the naked woman doing squats were widely circulated, leading to public outrage.
Home Affairs Minister Azmi Khalid said: "This should not have happened. If police personnel are really involved, then this is police abuse," he said in parliament after viewing the clip.
"We have begun investigations to determine what the recording is actually about," the police chief of Petaling Jaya district told the New Straits Times newspaper.
Deputy Prime Minister Najib Razak demanded tough action against the culprits.
"I see that as something serious. This is a slap to our image," he told reporters on Friday.
"I believe the prime minister and the cabinet view this issue seriously because if the video clips are genuine, it means this is an act that can affect the image and integrity of the police and the government," he said.
The Chinese Embassy in Kuala Lumpur was not available for comment yesterday.
Home Affairs Minister Azmi Khalid told a news conference last Thursday that Malaysian Prime Minister Abdullah Ahmad Badawi had directed him to visit China to dispel any misconception that Malaysian authorities have been targeting Chinese nationals, especially women.
Azmi was originally scheduled to visit China for one week from next Wednesday. But the Sunday Star newspaper said the visit had been put off until December 20.
The paper quoted Azmi as saying that his Chinese counterpart had requested the postponement as he had some "issues to settle."