Scared residents camp out in open in Jiangxi
By Fu Jing (China Daily)
Updated: 2005-11-28 05:34
Hundreds of people were being treated in makeshift hospitals and thousands were sleeping in tents yesterday in East China's Jiangxi Province after Saturday's earthquake which killed at least 15.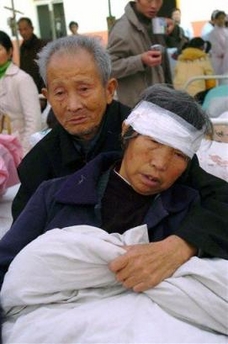 Accompanied by her husband, Gui Guijiao, a Ruichang resident who is injured in an earthquake, receives treatment in Ruichang People's Hospital in Ruichang City, east China's Jiangxi Province, Saturday, Nov. 26, 2005. [AP]

The Ministry of Civil Affairs said yesterday that seven teams have been dispatched to the worst-hit areas with food, water and tents for the thousands of the affected while supplies were also being rushed from neighbouring Anhui and Hubei provinces which also felt tremors.

The epicentre of the earthquake was in the region between Jiujiang, a well-known summer resort on the middle reaches of the Yangtze River, and Ruichang, both in Jiangxi Province, at 8:49 am on Saturday, the China National Seismic Observation Network said.

The ministry said as of 2 pm yesterday, the quake had left at least 16 people dead and more than 8,000 injured, 20 of them in critical condition, in Jiangxi and neighbouring provinces. Several aftershocks were reported.

In Jiangxi and over 600,000 residents have been moved to safety. About 150,000 houses were destroyed.

In neighbouring Hubei Province, one was killed; and of the 87 injured, 78 were students. More than 7,500 were evacuated to safety.

In Anhui Province, 32 houses were destroyed and there was no report of casualties.